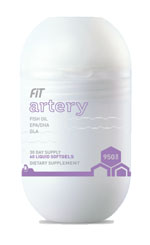 Fit Artery contains a proven combination of bioactives, including highly effective levels of omega-3 fatty acids from fish oil that promote artery health*
Provo, UT (PRWEB) April 27, 2012
Morinda Bioactives recently announced the release of seven new Fit Body Composition Supplements, one of which is Fit Artery. Fit Artery contains a proven combination of bioactives, including highly effective levels of omega-3 fatty acids from fish oil that promote artery health.*
The other key bioactives in Fit Artery include EPA, DHA, gamma linoleic acid, and noni. Also, the omega-3 fatty acids from the fish oil in Fit Artery are mercury-filtered and safe for pregnant and lactating women. This powerful combination of bioactives helps support artery health by:

Helps maintain healthy triglyceride levels*
May lower risk of coronary artery disease†
Helps improve overall cardiovascular health*
The other supplements include Fit Bone, Fit Eye, Fit Heart, Fit Joint, Fit Menopause and Fit Prostate. Each product has been specially formulated to address specific needs and have been formulated to complement the rest of the Fit Body Composition System.
The Fit Body Composition System takes a new, innovative approach to fat loss. It combines natural, powerful bioactive-based products with sensible nutrition and exercise to help you achieve ideal body composition so you can look and feel great. The Fit Body Composition System focuses on building lean muscle to increase your body's ability to burn fat.*
Products are available online at http://www.morinda.com or over the phone 1-800-445-2969.
About the Company
Morinda Bioactives, (formerly Tahitian Noni International) is a global, research-driven bioactive products company that was the first to introduce the health benefits of the noni plant—a bioactive-rich, adaptogenic plant, containing iridoid compounds—to the world outside of Tahiti. Morinda Bioactives is the leader in the discovery, development, manufacturing, and marketing of noni-based bioactive products including nutritional supplements, beauty, and weight loss lines. Headquartered in Provo, Utah, Morinda Bioactives is the world-wide leader in bioactive supplements.
†Supportive but not conclusive research shows that consumption of EPA and DHA omega-3 fatty acids may reduce the risk of coronary heart disease. Fit Artery contains 330 mg EPA, 170 mg DHA and 1 g fat per daily serving.
*These statements have not been evaluated by the Food and Drug Administration. This product is not intended to diagnose, treat, cure or prevent any disease.