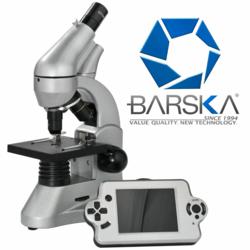 new lab microscopes are designed to high quality specifications to insure flawless performance
(PRWEB) April 27, 2012
Barska, a leading manufacturer of sport optics has designed a new line of professional microscopes. These new lab microscopes are designed to high quality specifications to insure flawless performance. With models with varying optical structures and features, Barska microscopes can be used for a verity of professional and student applications. Working with digital LCD display technology, Barska has developed 2 new models of digital microscopes that can capture photos and video. The powerful new stereo and compound microscopes are built to industry standard lab specifications. To complement the new line of professional microscopes Barska has designed new microscope slides made from flawless optical glass.
The new optical high power microscopes are designed for doctors, lab technicians, scientist and students. These traditional optical microscopes are available in high magnification compound and stereo optical systems. The new zoom binocular microscopes feature a 3D image. With 2 eyepieces these stereo zoom microscopes give a more normal depth of field. The new monocular microscopes feature interchangeable objective lens to increase magnification. These monocular compound microscopes offer a crisp, clear, flat view of microscopic details.
Barska's newly developed LCD digital microscopes are available in 2 new models; an 8 mega pixel and a 5 mega pixel model. The optical light-path of these microscopes are combined with a digital camera. The digital image is then displayed in real time on a color LCD display. The digital microscopes can output images and video to a video an external monitor or be saved on an external SD card to be accessed on a computer. These new digital microscopes work great as student microscopes because they allow the user to take digital photos and videos that can be inserted in to reports. Teachers can make use of these school microscopes when teaching such topics as microbiology and chemistry.
For detailed specimen studies in the lab Barska introduces new microscope slides. These new microscope slides are manufactured for high quality optical glass. The high quality optical glass is inspected to be flawlessly clear and free of defects. Also available for general student studies are factory prepared specimen sample slides. These prepared microscope slide feature actual specimens such as plant and flower tissues that students can study. All the new student microscopes and professional Barska microscopes are back by a limited lifetime warranty to insure years of quality performance.
BARSKA, with corporate offices, warehouse and distribution in La Verne, CA (Southern California), is a worldwide sport optics company with strong brand recognition in the optics industry. BARSKA offers an extensive line of precision sport optics products ranging from binoculars, scopes and spotting scopes to telescopes and laser sights. BARSKA is committed to delivering a superior quality product at an affordable price to our customers around the world. For more information, please call BARSKA at 1-909-445-8168, or visit them online at http://www.barska.com