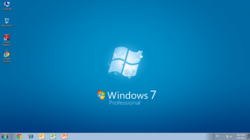 We've been very impressed with its flexibility, Ray Woods, DJB Visas
London (PRWEB UK) 27 April 2012
Today Intacore has announced the release of their introductory video to highlight the company's superior Hosted Virtual Desktop solution targeted at SMBs through to Enterprises. The eleven minute YouTube video demonstration helps businesses understand the distinct differences between traditional Microsoft Terminal Services and Citrix based platforms.
"Hosted Desktops are playing a vital role in the adoption of cloud services for business. These tools, allow companies to take back control of their IT expenditure, so they can focus on productivity", said Richard Gardener, Client Services Director.
The hosted solution comprises of two desktop offerings; the Standard and the Professional. These isolated virtual instances come packed with their own allocated processors, ram and storage. This makes them unique when compared to most shared session based systems, like Microsoft Terminal Services and Citrix.
The company provided ten specific business focused reasons why companies should consider Hosted Virtual Desktops for their operations.
1. Much smaller capital expenditure
2. Integrates with key business applications
3. Enterprise grade services and applications
4. Flexibility with Microsoft Office packages
5. Accessible any time, anywhere
6. Disaster recovery and business continuity built in
7. High security through 256bit AES Encryption
8. Highly scalable
9. Pay as you use
10. Fully resilient
"Hosted Desktops, Hosted Virtual Desktops or VDI's as they are commonly referred to, suit the needs of a wide range of businesses. However the Hosted Desktop solution tends to fit best when applied to knowledge workers". Gardener continued… "We're seeing a huge amount of uptake in varying verticals such as solicitors, surveyors, property developers, estate agents, financial services organisations, health care bodies and construction companies, but the list goes on. This is down to the inherent flexibility and ease of use, our Hosted Desktop solution provides the business owner or organisation."
An Intacore Hosted Desktop client Ray Woods, of DJB Visas commentated, "We've been using the Intacore Hosted Virtual Desktop service for some time now, and we've been very impressed with its flexibility and ability to integrate with our existing systems. Until recently we have been very much a paper based business, but with the help of Intacore's team we're redeveloping our website and moving our IT systems into the cloud, so we can streamline the way we communicate internally, but more importantly with our clients."
Intacore | Managed IT Services is a private corporation headquartered in the UK. The company provides a comprehensive set of IT Services to support a wide range of businesses. Services such as Hosted Desktops, IT Support, Cloud Computing Services, Web Design & Development.
For more information visit: http://www.intacore.com | Intacore | Managed IT Services | 0203 393 1599