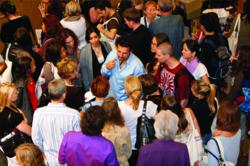 An amazing opportunity for people to transform their lives. I've never seen so many people fired up about their health and wellness. Along with the colleagues that present at this event, we share some of the most cutting-edge and high level information
Costa Mesa, CA (PRWEB) April 27, 2012
Thirteen-hundred health enthusiasts from around the world will gather at The Longevity Now Conference at the Orange County Hilton in Costa Mesa, CA. The conference will be held on Friday, May 18th through Sunday, May 20th and will examine the latest health and wellness advances specifically related to Mind Body Connection.
Led by world famous health lecturer David Wolfe, attendees at the Longevity Now Conference will discover how to achieve their ultimate health goals and create an extraordinary quality of life. In just three days, David Wolfe and a team of experts condense and present the most powerful tools and technologies that will add years to your life.
Mind-Body Connection implies that the mind plays a role in influencing a person's body and overall wellness, whether positive or negative. Scientists are beginning to discover that body responses are not merely caused by physical stimuli, and that there is interplay between the mind and the body. Thoughts and emotions bring about physical manifestations. The Longevity Now Conference May 18-20 will explore this theme, addressing all levels of health and well-being.
David Wolfe describes the conference as "…a mind-blowing opportunity for people to transform their lives. I've never seen so many people fired up about their health and wellness. Along with the colleagues I invite to present at this event, we share some of the most cutting-edge and high level information that is available, anywhere."
In addition to the powerful offerings from David Wolfe, The Longevity Now Conference includes presentations from many exceptional guests who are specialists in the fields of nutrition, medicine, and wellness. In May, featured speakers at the conference include such notable health and lifestyle experts as Joel Fuhrman, M.D., Dr. Michael Bernard Beckwith, Dr. Daniel Amen, Dr. Judith Orloff, and international supermodel Carol Alt.
Dr. Fuhrman is a board–certified family physician, best-selling author and nutritional researcher, who specializes in preventing and reversing disease through nutritional and natural methods. As a leading expert in nutrition and natural healing, Dr. Fuhrman has appeared on hundreds of radio and television shows. His book, Eat to Live, (Little Brown 2003) has gone through over 20 printings and been published in multiple languages. Dr. Fuhrman is actively involved in scientific research and has published seven books to date.
Dr. Michael Bernard Beckwith is a world leader and teacher in the New Thought tradition of spirituality. Dr. Beckwith is best known as the founder and Spiritual Director of the Agape International Spiritual Center in Los Angeles, California, and a featured teacher in the book and video, "The Secret." He inspires a congregation of more than 9,000 people weekly at Agape, and thousands worldwide.
Dr. Daniel Amen is a board certified physician, psychiatrist, teacher, and five time New York Times bestselling author. Distinguished Fellow of the American Psychiatric Association, he is regarded as one of the world's foremost experts on applying brain imaging science to clinical psychiatric practice. The author of 29 books including Change Your Brain, Change Your Life which is translated into 14 languages, Dr. Amen has been featured in many popular national magazines and has appeared often on network television.
Carol Alt is the ultimate pioneer and chameleon. Since her days as a renowned supermodel, Carol Alt has gone on to be multi-award winning actress, best-selling author on raw food nutrition and skin care entrepreneur. Alt's first book on raw food, called Eating in the Raw, came out in 2005 and is a perpetual best-seller. Her third book, Easy Sexy Raw, is due out this Spring.
With a masters degree in nutrition, and a background in science and engineering, David Wolfe is considered one of the world's top authorities on natural health, beauty, nutrition, herbalism, chocolate, and organic superfoods. David is a best-selling author of the books, The Sunfood Diet Success System, Eating for Beauty, Superfoods: The Food and Medicine of the Future, Naked Chocolate and The LongevityNOW Program.
All participants will enjoy the opportunity to experience being "grounded" using proprietary technology throughout the conference. $20,000 worth of free prizes including a Clearlight far infrared sauna will be given away. Exhibitors will be offering access to some of the best alternative healing modalities and showcasing the most advanced superfoods, superherbs, chocolate, essential oils, delicious raw food, supplements, minerals, and vitamins available.
The Longevity Now Conference is an annual event which features prominent experts in the field of health and well being. Register now at http://www.TheLongevityNowConference.com or call 1-702-527-2378 for more information about the event.
The Longevity Now Conference is sponsored by Longevity Warehouse, The Best Day Ever, Earthing.com, Omica Organics and 118 Degrees Restaurant.