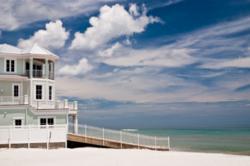 We expect the one available partnership to go quickly.
Riverview, FL (PRWEB) April 28, 2012
Florida Beach Homes For Sale dot net is a recent website launch that targets buyers and sellers of ocean and water front properties in Clearwater Beach, St Pete Beach and downtown Tampa, Florida, with plans to expand into many other areas of Florida.
The site provides general information on each area along with typical price ranges for homes and condos. Owner Chris Jordan of Marketing Made Simple mentioned that the service is strictly pay per performance, unlike many online advertising venues that charge monthly fees just to be visible, regardless if a visitor takes action. He pointed out that it solves three primary issues that realtors face with traditional lead services.
Exclusiveness of Leads – "We work with one agent or broker exclusively. Many other lead services sell leads to multiple clients. This creates a major problem since the first one to contact the client wins. Although you wouldn't want to sit on a hot real estate lead for long, our client has the peace of mind knowing that their competitor won't contact them first."
Quality of Leads – "The keywords we have targeted are specific to certain areas and for water or ocean front properties, such as Clearwater Beach Homes And Condos For Sale, delivering highly qualified leads. We don't target general real estate terms that typically result in low conversion rates. And since the majority of leads are expected to be ocean or water front properties, the sale prices are typically going to be much higher than the average home."
Cost of Leads – "Real estate leads are one of the most costly among lead service providers, typically between $40-$75 each. Our standard pricing of $35 is well below the industry average.There is no cost to the client unless they receive a lead from an interested buyer or seller."
"We expect the one available partnership to fill quickly." Chris can be contacted via the contact information above.