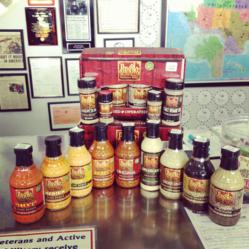 Elma, New York (PRWEB) April 27, 2012
Brooks' sauces make their way to the Made In America Store's shelves to add to the pristine list of barbecue sauces, marinades and dipping sauces. Brooks' is a family run and operated business and has a restaurant locating in Oneonta, New York. Since their start in 1951, their products are all 100% American made, right down to each spice used.
The Made In America Store offers 12 different kinds of Brooks' sauces and a sampler gift box. To start, the Made In America Store has eight different 16oz. bottles of sauces including Hot, Medium and Mild Wing Sauce, and three different chicken marinades, Chicken Sauce Marinade, Roasted Garlic Teriyaki Marinade and Spiedie Marinade. The Made In America Store stocks two different kinds of barbecue sauce, Brooks Original BBQ Sauce and Zesty Barbecue Sauce. There are also three different kinds of grilling rubs in 6oz. containers, including Sea Salt Vegetable Rub, Meat Season Rub and Brooks Original Grilling Rub. Lastly Brooks also offers their signature Coleslaw mix in 12.75oz. bottles.
Consumers can visit http://www.MadeInAmericaStore.com to purchase the full line of Brooks' BBQ sauces and rubs.
Brooks' history is filled with progression and s story of the American dream. Griffin Brooks graduated from the Agricultural and Technical College at Delhi in 1940 majoring in animal husbandry. In 1941, Griffin married Frances McClelland who had a degree in food management. Together they purchased her father's chicken farm in Stamford where they raised chickens for eggs and meat. The couple later owned a retail store where they stocked packaged poultry for local stores.
In 1951, with their experiences with poultry and retail, they started their first catering job. By the mid 50's, the Brooks were catering local barbecues and hosting their own weekend cookouts at their farmstead.
Eventually the couple envisioned their dream of someday owning their own barbecue restaurant, after being successful with their concession stand. After leasing some land on Route 7 they built and opened their first Brooks' House of Bar-B-Q Restaurant. The Restaurant opened on June 10th, 1961 and could house 80 people, including the 15 employees running the shop.
In 1965 the Brooks' realized they couldn't grow anymore as the size of the facility wouldn't allow it, so the Brooks moved down the road and purchased a farm where the current Brooks' Bar-B-Q Restaurant still is today. The facility can now seat 300 customers and has the largest indoor charcoal barbecue pit on the East coast, spanning 38 feet in length.
In 1975, Griffin and Frances sold their business to their son John Brooks, and in 2005, sold it to their son Ryan. This concept of keeping businesses in the family and privately owned is, in an essence, what the American dream truly is.
The Made In America Store is located at 900 Maple Road in Elma, New York and is committed to selling 100% American manufactured products. You can visit http://www.MadeInAmericaStore.com for more information or shop our catalog of over 290 vendors that are devoted to producing USA made products. All US military personnel both active duty and retired receive a discount every day. Consumers can also keep up to date news articles, events, photos and contests with Facebook, Twitter, Google+, Pinterest and Tumblr!