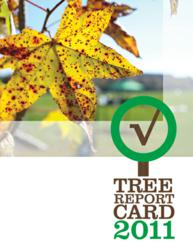 This year's Tree Report Card shows signs of progress. Tree planting numbers have far exceeded targets, overall canopy decline appears to have halted and significant efforts have been made to correct
Washington, DC (PRWEB) April 27, 2012
Deficiencies in the Urban Forest Preservation Act (UFPA) of 2002 have left the District with an Incomplete on Casey Trees' Fourth Annual Tree Report Card — the first year a letter grade could not be assigned.
Since 2009, in conjunction with Arbor Day, Casey Trees has assessed the District's trees on public and private lands using four performance metrics — Coverage, Health, Planting and Protection — to determine the overall grade.
Tree Protection, which evaluates the effectiveness of the UFPA, received an Incomplete preventing an overall grade from being determined. An Incomplete was assigned to credit progress being made since 2011 to address the inadequacies detailed in the Office of the D.C. Auditor Report of the Urban Forestry Administration.
Of particular note is Councilmember Phil Mendelson's introduction of the Urban Forestry Administration Reorganization Act (UFARA) of 2011, which proposes the transfer of management and enforcement of the Tree Fund to the District Department of the Environment and strengthens additional provisions with the intent to grow D.C.'s tree canopy to 40 percent by 2035.
Collective Tree Planting efforts — more than 13,200 trees were planted across D.C. in 2011 — earned the District an A+ for the second year in a row. Tree Coverage and Tree Health remained flat, receiving a B+ and B- respectively — the same grades received for three consecutive years.
"This year's Tree Report Card shows signs of progress," said Mark Buscaino, Executive Director of Casey Trees. "Tree planting numbers have far exceeded targets, overall canopy decline appears to have halted and significant efforts have been made to correct deficiencies in D.C.'s tree protection law. While more work lies ahead, we are confident that these gains will lead to improved conditions over the ensuing years."
Buscaino will discuss the Fourth Annual Tree Report Card during Tree Talk Thursdays, Casey Tree's monthly online chat series, on May 10 at noon. Participants can submit questions or comments live during the chat or in advance to treedc(at)caseytrees(dot)org. Event reminders may also be scheduled.
This Fourth Annual Tree Report Cards and those from previous years may be viewed in their entirety, along with recommendations for how to improve D.C.'s grade, at caseytrees.org/treereportcard.
###
About Casey Trees:
Casey Trees is a Washington, D.C.-based nonprofit organization established in 2002 committed to restoring, enhancing and protecting the tree canopy of the nation's capital. To learn more about Casey Trees, visit http://www.caseytrees.org.