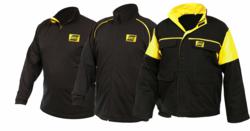 Florence, SC (PRWEB) April 27, 2012
ESAB Welding & Cutting Products introduces a new addition to the Weld Warrior line of Personal Protection Equipment.
ESAB's FR Line of flame-retardant clothing is designed to give maximum protection to the professional welder while providing comfort in the most demanding environments.
The new FR Line includes The Jersey – a lightweight pullover that is perfect for warmer climates. The Fleece features a full-zip front and is weighted for cooler climates. The Winter is a rugged, full-zip jacket that is designed for the coldest of climates.
The FR Line garments are made with Phoenix FR material, which gives the clothing 100% flame-retardant protection for the lifetime of the garment. These flame-retardant items are stylish, modern, and on-trend, while offering superior protection.
ESAB's Weld Warrior line of Personal Protection Equipment includes helmets and head protection, eye protection, gloves, clothing, and a variety of accessories. This PPE line incorporates the latest in safety-related technology and is favored by welders across the nation.
With more than 100 years of experience, ESAB Welding & Cutting Products is one of the world's largest and most skilled manufacturers of welding and cutting equipment and welding filler metals. Recognized as the technological leader in the industry, ESAB is committed to providing customized solutions for their customers. For more information, visit http://www.esabna.com/weldwarrior or call 1-800-ESAB123.