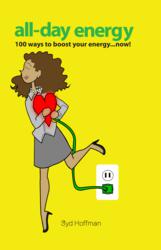 Don't settle for low energy - this book delivers motivation and tools to power up your life!
Chandler, AZ (PRWEB) April 27, 2012
It's morning. Americans plan on walking right after work. But by the end of the day, they are so worn out that all they can think about is fast food and TV and another day goes by with their closing thought being "why am I so tired all the time?"
There is an answer. Health and wellness educator, Syd Hoffman, has released a new book, All-Day Energy: 100 Ways to Boost Your Energy … Now! In it, she emphasizes simple, insightful ideas that make a huge impact on erasing fatigue, increasing clarity, and creating energy. The book teaches people of all ages: how to finally get a good night's sleep, the power of a ten minute brisk walk (two hours of instant energy), which delicious foods to eat to combat the 2pm slump, and joyful ways to reduce daily stress.
Popular health expert Dr. Mehmet Oz reports "Two-thirds of American women describe their current energy level as exhausted or drained." Hoffman implores readers, "Don't settle for this!" There are many factors that play a part in how energetic people feel. The most important ones are food choices, physical activity level, mental outlook, and the quality of rest.
"We're all so busy! But your health shouldn't suffer. I wrote this easy-to-follow book to help people 'tweak' the way they go about their day without feeling overwhelmed. Open randomly to any page and add more zip to your step…right away!" said Hoffman, whose friends and family describe her as having "boundless energy." Hoffman reached the summit of Mt. Kilimanjaro at 50 and is off to tackle the Swiss Alps at age 55. She knows these ideas work because she teaches and practices them every day.
"All-Day Energy: 100 Ways to Boost Your Energy … Now!" is available on Amazon for $11.95. For more information and radio/television clips, visit http://www.SydHoffman.com.