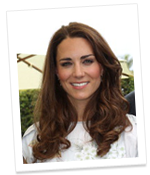 With the royal couple's one year wedding anniversary this weekend, it will be exciting to see if Prince William presents his lovely wife with some new jewelry to add to her collection
Milwaukee, WI (PRWEB) April 26, 2012
Diamond Nexus originally created the Lady of Kensington engagement ring in honor of Princess Diana. Featuring a 2.54 ct. Oval cut synthetic sapphire and 24 accent stones in a halo setting; it closely resembles the ring it had been inspired by.
Prince William presented his late mother's iconic ring to Kate Middleton at their wedding on April 29, 2011 at Westminster Abbey. People all around the world eagerly watched them, studying their fashion and jewelry choices. The classic ring design jumped back into popularity, and is now being coveted by a new generation of couples.
This coming weekend will mark the couple's one year wedding anniversary and Diamond Nexus has seen a jump in sales of the Lady of Kensington engagement ring, as the idea of wearing an elaborate and affordable engagement ring appeals to most new couples who want to keep their ring within a budget.
This style also launched the increasing interest in halo set engagement rings. Diamond Nexus has a vast collection of halo style engagement rings with varying stone cut centers and carat weights. "Women love the femininity of the design. Halo settings are timeless."
"Sales for the Lady of Kensington have tripled in the past year, with more and more couples wanting that look of royal elegance.Kate Middleton's engagement ring has created quite a stir among our customers. Some women do opt to semi-customize the ring with a different colored center stone, depending on their tastes, which is easy to do with Diamond Nexus, " stated Stephen McNelly, Director of Operations.
"With the royal couple's one year wedding anniversary this weekend, it will be exciting to see if Prince William presents his lovely wife with some new jewelry to add to her collection. Kate is so fashion forward, that we know whatever she wears is going to look stunning," commented Jennifer London, Social Media Coordinator.
Diamond Nexus was founded in 2004 with the purpose of bringing to the public the powerful benefits of the lab-created diamond simulant revolution. They have over 250,000 customers worldwide that have awarded them an "A+" rating with the BBB, and are the ninth largest online jewelry retailer in America according to the 2011 IR500 list. For two years in a row brides from The Knot have selected them as their Best of Jeweler. Diamond Nexus currently has two retail locations: their flagship store at Woodfield Mall in suburban Chicago, Illinois, and a second store at Mayfair Mall in Milwaukee, Wisconsin. In 2009 the company was named the official jeweler and crown maker of the Miss Universe Organization as part of NBC/Universal's "Green is Universal" environmental initiative.