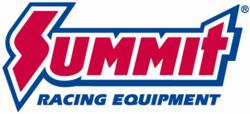 Tallmadge, OH (PRWEB) April 27, 2012
Summit Racing Equipment announces the addition of a new line of air tools to its inventory: AirCat Composite Air Tools.
AirCat air tools have composite housings with ergonomically designed handles to reduce user fatigue and better distribute weight for a more balanced tool. Every AirCat tool features patented through-the-handle exhaust technology that allows discharge air to pass without developing backpressure.That significantly reduces noise—up to 50 percent compared to standard air tools.
The AirCat Composite Tools line includes a variety of impact wrenches, reversible drills, impact hammers, short barrel air hammers, and cut-off tools.
Pricing and ordering information is available online at SummitRacing.com