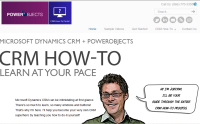 This portal is designed for everyone wanting to learn more about running CRM, but it really fills a particular need for the smaller, do-it-yourself type organizations to get the most value out of their CRM with no obligations
Minneapolis, MN (PRWEB) April 26, 2012
PowerObjects, a world leading Microsoft Dynamics CRM (customer relationship management) solution provider, announces the release of their CRM How-To Learning Portal. This customer only website provides learning opportunities for all levels, from beginner to experienced CRM users.
As a Microsoft Partner, PowerObjects provides service, support, education and add-ons through an organization built with 100% focus on Microsoft Dynamics CRM. This CRM How-To Portal is established as a fundamental part of the education PowerObjects provides.
"Microsoft Dynamics CRM attracts a wide variety of businesses, small and large," says Jeff Wedren, PowerObjects Director of Marketing, "This portal is designed for everyone wanting to learn more about running CRM, but it really fills a particular need for the smaller, do-it-yourself type organizations to get the most value out of their CRM with no obligations."
The content of the portal is developed by a Microsoft Certified Trainer, and includes courses on CRM topics such as basics, administration, customization, data management, collaboration, and analytics, with more topics and courses to be added regularly. For general question about the CRM How-To Portal or subscription information, visit the portal on the web, or contact PowerObjects.
About PowerObjects
Established in 1993, PowerObjects is one of a handful of organizations recognized as a leader in delivering Microsoft Dynamics CRM/xRM solutions to customers. As a Microsoft Partner Gold Certified in the CRM competency and Microsoft President's Club member, PowerObjects has an impressive and rapidly growing list of customers benefiting from Microsoft CRM/xRM. PowerObjects fully embraces the power of customer choice and offers hosted, on-premise and online CRM deployment options. Headquartered in Minneapolis, Minnesota, with offices in Dallas, St. Louis, and Columbus, PowerObjects provides CRM solutions to businesses and non-profit organizations in multiple industries including healthcare, life sciences, insurance, financial services, publishing, distribution, manufacturing and professional services.