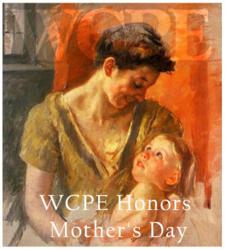 Wake Forest, NC (PRWEB) April 27, 2012
WCPE's General Manager Deborah S. Proctor announces a special opportunity to honor mothers this Mother's Day; dedicate a day of music to a mother at TheClassicalStation.org. Starting Sunday morning (April 29th ) for a donation of $75 air a message to someone very important.
"Trying to decide what to get your mom for Mother's Day this year?" asks Proctor. "Let WCPE help"!
For a gift of $75 to The Classical Station, request an on-air Mother's Day Dedication to that special mother, grandmother or daughter. Request a Mother's Day Dedication by May 7 by pledging online or by calling 800-556-5178.
"Make Mother's Day special this year," Proctor continues. "Tell the world how much your mom means to you"!
Select a preferred and alternate time for an announcement to air between 7 a.m. and 9 p.m. ET. First come first served; these times are not guaranteed and while WCPE will attempt to honor the requested times, the assigned times will be solely decided by WCPE.
About WCPE:
WCPE broadcasts on a variety of FM frequencies in Eastern North Carolina and is heard throughout Eastern and Central North Carolina and Southern Virginia from its transmitting tower in Wake Forest, NC and other repeater stations. A live feed is also available on the Internet at http://www.theclassicalstation.org, cable systems, affiliate radio stations and via satellite. WCPE is a non-commercial, listener-supported station that plays classical music exclusively. WCPE is owned and operated by the Educational Information Corporation, a North Carolina non-profit broadcasting organization. The Corporation was formed in 1973 and began operating WCPE in July of 1978. The Corporation holds a federal 501 (C) (3) Public Charity Exemption Certificate and the corresponding certificate from the State of North Carolina.
Media Contact:
Curtis Brothers
919.556.5178
curtis (at) TheClassicalStation (dot) org