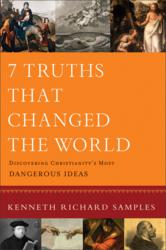 the Christian faith contains truth-claims that have turned the world upside down
Glendora, CA (PRWEB) April 30, 2012
People don't stay dead after they die? God was a person walking on Earth? The world came into existence out of nothing? For many people these ideas might seem crazy, but in 7 Truths That Changed the World: Discovering Christianity's Most Dangerous Ideas, Kenneth Richard Samples shares how these (and four other) truth-claims form the bedrock of Christianity—and ultimately the foundation of its worldwide impact.
In this new book (Baker, May 2012) Samples provides a biblical, historical, and philosophical exploration of some of Christianity's most revolutionary ideas and offers a unique look at how the world changed when Christ and his followers came on the scene. These ideas include

the resurrection
Jesus as God incarnate
creation out of nothing
the compatibility of faith and reason
justification by grace through faith
humanity's value and dignity
the greater good of suffering
According to Samples, "Historic Christianity embodies numerous beliefs that are theologically and philosophically volatile or 'dangerous' and it is these powerful truth-claims that have transformed the church and turned the world upside down." For example, Christianity's initial dangerous idea about the resurrection of Jesus Christ birthed the church and within 300 years the faith came to dominate the ancient Roman world and then ultimately all of Western civilization.
In this thoughtful and compelling apologetics work, Samples provides many reasons for belief in the Christian faith illustrating why Christianity's ideas remain as revolutionary today as they were 2000 years ago. In a world where Christian belief and practice are increasingly under fire, 7 Truths that Changed the World will give the reader confidence to impact the world for Christ—for good.
Kenneth Richard Samples serves as senior research scholar with a focus on theological and philosophical apologetics at Reasons To Believe in Southern California. A nonprofit and interdenominational organization, RTB provides research and teaching on the harmony of God's revelation in the words of the Bible and the facts of nature. Samples is the author of A World of Difference: Putting Christian Truth-Claims to the Worldview Test (Baker, 2007) and Without A Doubt: Answering the 20 Toughest Faith Questions (Baker, 2004).
To schedule Kenneth Samples for a speaking engagement or interview, please contact Kristi Sandberg at publicity(at)reasons(dot)org or call (800) 482-7836 ext. 112.