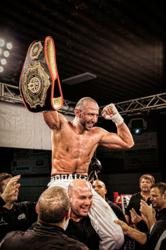 We knew Gibson was going to be strong and durable. Amer followed the game plan exactly as we had decided and the decision was exactly as we had planned. It was a perfect night of work.
Lockport, NY (PRWEB) April 26, 2012
All eyes were focused on Lockport NY, Saturday April 14th for the highly anticipated undisputed Championship Kickboxing event.
Abdallah (12-0) made the first defense of his coveted title against the durable and hard hitting TJ Gibson of Duluth, Minnesota. Gibson, who fluctuates from light heavyweight up to heavyweight proved he was worthy of the challenge and endured a 10 round war with Abdallah.
From the opening bell, Abdallah controlled the distance and pace landing solid blows that kept Gibson from landing any solid shots.
Early in the second round Abdallah unleashed a devastating left roundhouse kick to Gibson's temple, followed by a right cross that sent the Minnesota native nearly to the mat before referee Joe Pagan stepped in and issued an 8 count. Abdallah continued the assault, but the durable Gibson showed Western New York why he has never been stopped in his career. "Going into the fight, we knew he was durable and strong. I was hoping to be the first to stop him, but I tip my hat off to TJ. He took a lot of hard shots and proved he was game." Abdallah stated.
In the middle rounds Gibson began pressuring Abdallah by attempting to close the gap and land big shots to end the fight. Abdallah's experience, defense and superb counter punching made it difficult for Gibson to land the big shot he was looking for.
In the final round, Abdallah was way ahead on all 3 judges' score cards but came out to finish Gibson. The hardest shot of the fight landed on Gibson's chin in the form of a right uppercut that spun the former Heavyweight world champion around only to meet a kick from Abdallah that landed flush on his chin.
To the amazement of the standing room only crowd, Gibson held on and was saved by a stop in the action due to referee Joe Pagan having to fix the tape on Abdallah's glove. After 10 rounds of exciting world class kickboxing, Amer Abdallah was awarded a unanimous decision victory and retained his United States national title. When asked for a comment, Abdallah said "I'm so proud to be able to represent Western New York and keep this national title here. This victory is shared not only by me and my team, but by this entire community."
Team Abdallah head trainer Jim Andrello of Impact Martial arts in Liverpool NY stated after the fight, "We knew Gibson was going to be strong and durable. Amer followed the game plan exactly as we had decided and the decision was exactly as we had planned. It was a perfect night of work."
Making his debut as Team Abdallah training camp manager was Ahmed Imamovic of Amherst, NY. "Amer performed like the champion he is and proved why he is the #1 kickboxer in the country. I'm so proud of him, this team, and all of these great fans that came out to support him."
The event was sponsored by Local Edge Media, All Metal Works, Centimark Roofing, Executive Landscaping, Papa Leos pizzeria, Witlin, Cain & Dry Accounting, Sparks Monroe Heating & Cooling, Mulvey Construction & Drum Oil. Event coordinator Lizz Bouchard stated, "It's due to these sponsors that we are able to host this caliber of an event for our community."
Abdallah is CEO of kickboxing promotion company, Lace Up Promotions, and the Lockport Athletic & Fitness Club, a premier fitness club located in Lockport, NY, where many athletes train. The Western New York based Lace Up Promotions has featured many local athletes that have made it to the big stage including Sam Stout, Mark Hominick, Chris Hordecki, Jim Andrello, Ty Hafner, Kim Andrello & Ed Burris and now, Corey Webster. "We are so proud to have given these fighters the opportunities to build their careers and having had them on our shows," says Abdallah with a passion for growing the sport that is apparent.
Abdallah has been in the martial arts since the age of 8 and says he's living his dream through his promotions company. "I love the martial arts, love the people I've met over the past years, and love watching young local athletes turn into champions," he says.
Lace Up Promotions has been hosting kickboxing, boxing and Muay Thai events around the upstate New York area since 1998 and has opened markets in Syracuse, Rochester and Connecticut. They have hosted events in Texas and New Jersey. "It's been such a blessing to have an opportunity to do what I love and be a part of so many communities. In each town we promote these events we feel right at home," says Abdallah.
Visit Lockport Athletic & Fitness Club homepage's website at http://www.lockportathletic.com and Lace Up Promotions at http://www.laceuppromotions.com. Like Lace Up Promotions on Facebook at: http://www.facebook.com/#!/pages/Lace-Up-Promotions/153547474674230