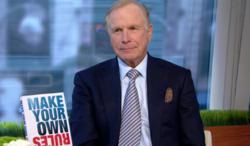 "I am excited to be a part of the SHL family and help deliver the message that the reverse mortgage product is a viable and responsible product that should be considered as part of the financial plan of any senior homeowner."


Melville, New York (PRWEB) April 27, 2012
Wayne Rogers, well known professional actor, Broadway Producer, news contributor to the Fox Network (cashin) coupled with over forty years of experience in investments has signed on to be the spokes person for a national reverse mortgage ad campaign representing Senior Home Loans, a division of Continental Home Loans.
Rogers stated "I am excited to be a part of the SHL family and help deliver the message that the reverse mortgage product is a viable and responsible product that should be considered as part of the financial plan of any senior homeowner."
The National campaign is headed by industry veteran Jason Levy, CEO. Levy's past experience includes managing the Robert Wagner reverse mortgage campaign.
The company is developing a wholesale channel for reverse mortgages and is actively hiring for both retail and wholesale.
If you are interested in learning more about the reverse mortgage program visit http://www.shlreverse.com, if interested in applying for a position apply at resumes(at)shlreverse(dot)com or you can call 1-800-875-3029.