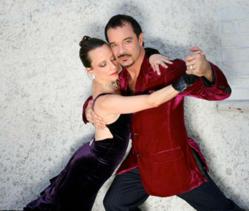 2011 USA Tango Champions Gayle Madeira and Sidney Grant perform and teach in the first full event of the new Saugerties Performing Arts Factory in Saugerties New York.
Saugerties, NY (PRWEB) April 27, 2012
Gayle Madeira and Sidney Grant, the 2011 USA Tango Champions, will teach and perform Argentine tango on Saturday, April 28 and Sunday, April 29, 2012 in the first full event of the new Saugerties Performing Arts Factory in Saugerties New York. They will also teach a men's and women's tango technique workshop on Sunday, April 29 from 2-3:30pm at the Mountain View Studio in Woodstock, New York. The Saugerties Performing Arts Factory is a newly renovated 21,000 square foot facility intended to place "all the arts under one roof." The opening weekend on April 20-22 drew hundreds of patrons and included theater, music, art and dance showcases.
For the events on Saturday, April 28st, there will be an absolute beginners class at 7pm, no partner or experience necessary, followed by an 8pm intermediate class, also no partner necessary but some tango experience with Argentine Tango is required. Woodstock Tango's popular Milonga Bohemia (Argentine Tango Social Dance) will begin at 9pm and will include a performance by Gayle and Sid around 11pm.
The tango DJ for Milonga Bohemia will be La Rubia De Norte who will play classic and nuevo tango with interludes of latin and swing. Admission is $15 for the night, $10 for students with ID and senior citizens over 65.
Saugerties Performing Arts Factory address: 169 Ulster Ave. Saugerties NY
Mountain View Studio address: 20 Mountain View Ave. Woodstock, NY
About Gayle and Sid
Gayle Gibbons Madeira is an award-winning painter, dancer and choreographer based in New York City. She began dancing with the Loudoun Ballet Company in Virginia at age five and was graduated from the prestigious dance conservatory at the State University of NY, College at Purchase with a BFA in 1992. She has performed work by Paul Taylor, José Limón, David Parsons, Neil Greenberg, Kevin Wynn, Gleich Contemporary Ballet, Merce Cunningham Repertory Understudy Group, David Gordon's Pick-Up Dance Company and Shapiro & Smith among others. Gayle's choreography has been produced in: Dunois Theater (Paris, France), Boston ("The Rise and Fall of the City of Mahagonny" at Opera Boston), Spoleto Festival USA, Here Theater, Joyce SoHo, Bard College ("In a Pig's Valise"), Manhattan School of Music ("Mirandolina") and PACE University, among others. In 2006, Gayle began dancing Argentine tango. She has performed tango with Carlos Vera (Forever Tango), Sidney Grant, Lexa Roséan, Artem Maloratsky, Carlos de Chey, Anton Gazenbeek, Raul Cabral, Jorge Juanatey, Monica Paz and Walter Zylinski. Gayle holds the champion titles for both the 2011 U.S. Tango Championship in salon category with Sidney Grant and the 2008 U.S. Tango Championship in stage category with partner Lexa Roséan. Gayle's paintings are included in numerous private and institutional collections and have been exhibited in several shows and galleries including the Williamsburg Art & Historical Center's "Brave Destiny" surrealism show and New York Hall of Science "Art Envisions Science." Madeira was Artist-of-the-Month in the Artist's Magazine February 2010 issue.
Also known as Doctor Dance, Sidney's career has spanned over two decades of dedication to the art of social dancing, specializing in Argentine Tango. Teaching young and old alike in a variety of settings (studios, schools, senior centers, and corporate/private events) Sid is in constant demand for his unique instruction and performance. His passion for partner dancing has enabled him to build a worldwide clientele, including choreographing hundreds of wedding couples' first dances. He was valedictorian in the School of Journalism and Communication at Rutgers College, where he minored in Spanish.
A proud SAG member, Sid appeared in the films Mad Hot Ballroom, Take the Lead, starring Antonio Banderas, and Julia Roberts' Mona Lisa Smile, in which he danced with Academy & Tony award-winning actress Marcia Gay Harden, who chairs the Advisory Committee of Sid's not-for-profit: Ballroom Basix™, an arts-in-education initiative that brings the "fun, fitness & fancy footwork" of partner dancing non-competitively to schoolchildren. Headquartered in Harlem, Ballroom Basix™ exposes inner city kids to the joy and etiquette of social dancing, enabling student to dance -- rotationally and respectfully -- with one another regardless of shape, size, ability or popularity, thereby fulfilling its motto: "making manners matter...one step at a time!". Sid is committed to the expansion of this non-competitive model so that no student feels rejected or excluded. Sid and Gayle donated the winning proceeds from their 2011 USA Tango Championship to Ballroom Basix™.
Together, Gayle and Sid have created innovative, costumed choreographies, including "Tin Man Tango" and "Tango In Wonderland." They look forward to bringing more attention and support to Ballroom Basix™ and other worthy charities that further dance and peace in the world.