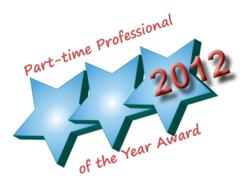 We feel that part-time professionals are literally at the hub of productivity in the US workplace.
Boston, MA (PRWEB) April 27, 2012
The Talented Alliance of Part-time Professionals (TAPP) recently announced the first-ever Part-time Professional of the Year Award. The award will recognize the valued contributions made by individuals that work part-time.
According to the Department of Labor, there are 33 million Americans who work part-time, comprising over one third of the US workforce. Statistics reveal that part-time professionals represent all stages of life, contribute in all levels of companies, and are employed in virtually every industry.
The Award is currently taking nominations and soliciting candidates that have been employed part-time for at least six months. Characteristics that will be considered for the award include: being a team player, demonstration of being a self-starter, possessing good communication skills, exhibiting efficiency in their assigned tasks, and representing consistent engagement in their role. Those nominating are being encouraged to give examples of these behaviors when they submit their nomination.
There is no charge for submitting a nomination. However, the winner will receive several appealing awards including: $1000, free premium membership for 2 years to TAPP Online, and airfare (up to $600), hotel and registration for the 1st TAPP Conference slated for June 2013. The individual nominating the winner will receive a $50 American Express Gift Card as well.
Lind Guild, Founder and CEO of TAPP, said "We are excited to have the opportunity to recognize an exceptional member of the part-time workforce. But more importantly, we anticipate this award will help raise needed awareness for the impact and contribution of part-time employees in general. We feel that part-time professionals are literally at the hub of productivity in the US workplace."
Endorsing the Award through sponsorship are several companies and organizations that employ or advocate part-time employees. These organizations currently include Arizona Small Business Association; Boston College Center for Work & Family; Denver Metro Chamber of Commerce; Northeast Human Resources Association; and SCORE - "Mentors to America's Small Business".
Nominations are due no later than June 12, 2012. Those that know of or work with part-time professionals that may be candidates should visit the website to explore the nomination form.
TAPP is a professional association offering 24/7 online comprehensive research, resources, and community for both current and future part-time professionals, as well as their employers. Assessment tools, experts, archived webinars, discussion boards, job boards, and articles are among the benefits TAPP members enjoy. Basic membership is free. For access to additional resources, premium membership is available for annual or bi-annual fee. TAPP can be found on Facebook, Twitter and Linkedin.