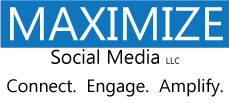 Los Angeles, CA (PRWEB) April 26, 2012
Social media agency Maximize Social Media LLC announced its law enforcement program today, providing needed support to the law enforcement community in growing its social media presence and increasing engagement.
"At a time when government officials are looking to save money and improve communication, those officials that have taken the leap into social media have found it to be a very effective tool that is extremely cost effective," said Chris McLaughlin, CEO of Maximize Social Media LLC.
McLaughlin pointed out that law enforcement agencies are able to quickly post photographs of missing children or fugitives that the social media community is able to share within just minutes. In addition, alerting local communities of increased crime in specific areas as well as other important alerts can be effectively communicated using social media.
"When consulting with law enforcement officials we were able to see dramatic and measurable improvements in community engagement after they implemented our suggestions. This obviously leads to more community awareness and provides the law enforcement agency with a sure way to get the word out locally," McLaughlin noted.
Maximize Social Media LLC is available to provide full service community management to law enforcement agencies wishing to improve their communication. This includes Facebook Timeline design and integration, Twitter management, and other important social media platforms. Furthermore, Maximize will manage Facebook advertising on behalf of the agency to grow its local following.
Law enforcement agencies interested in Maximize's services are invited to contact Maximize for a no obligation consultation and well as a list of references.
About Maximize Social Media LLC
Maximize Social Media (http://www.maximizesocialmedia.com) is a leading provider of social media management services for clients in over 40 different verticals. With offices in Florida and Los Angeles, Maximize provides social media consulting and Facebook advertising management for clients in English speaking countries such as the US, Canada, and Australia. The company also features social media management outsourcing for busy social media mangers looking for additional assistance on a white label basis.