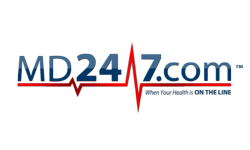 Telehealth is changing.
St. Petersburg, FL (PRWEB) April 26, 2012
Telehealth service leader MD247 announced a new "brand experience initiative" on Thursday. The telehealth "brand experience initiative" is meant to help consumers build the best telemedicine company, through their interactions on http://www.facebook.com/md247dotcom.
MD247 explained that branding is more than just a buzzword for businesses. It has become the crux of executing business in this economy. No longer is it acceptable for a company to think in terms of "a sale is the only thing," rather businesses now understand that the world revolves around branding or creating a "brand experience." The idea of a brand experience is designed to serve the consumer, and that makes this retail atmosphere fantastic for people looking for a product that fits their life. Brand experience means that companies like MD247 must do something they have never done before in their quest to provide telehealth services, they need to bend and learn.
Telehealth is a little different from traditional products, in that MD247 never needs to convince participants to head out of the house and choose the MD247 telehealth services. A consumer might think of this in terms of a visit made to a local Starbucks every morning, when the consumer could very well be visiting Dunn Bros Coffee or even getting a cup of coffee from the local Dunkin' Donuts. Why is it that the consumer hits Starbucks; perhaps it is the comfort and ease that comes with a favorite Chai Latte being just the way it is liked every morning? MD247 is working to create the perfect brand, two parts the telehealth technology that is necessary to make a family feel better now and one part the warm feeling of a well-worn pair of jeans. In order to build that brand, in order to make telehealth into a "talk to a doctor now" hotline, MD247 needs to know the consumers and make the consumers a part of the MD247 family.
MD247 has invited all current telehealth program members, as well as those who are merely interested in telehealth, to reach out to the telehealth company on Facebook (http://www.facebook.com/md247dotcom) to discuss just "what" consumers need to feel better and lead a better life. As a company, MD247 will then leverage telehealth technology and a "can do" attitude to build consumers the best telehealth product.
MD247.COM (MD247; MD24/7; MD/247; M.D. 247; MD 247) is a Largo Florida based telehealth healthcare service provider. In addition to telehealth services, MD247.COM provides discounted pharmacy programs, discounted "in person" healthcare visits and discounted veterinary services for the four-legged family members. MD247.COM can be located online at http://www.md247.com, can be contacted by email at cs(at)md247(dot)com or can be reached by telephone at 866-232-1343.