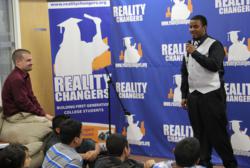 "Reality Changers is a model - not for the city, not for the state, but for the country." U.S. Secretary of Education Arne Duncan
San Diego, CA (PRWEB) April 26, 2012
The National Institute of Mental Health studies reveal 74% of the population suffer from speech anxiety. Reality Changers' California's leading tutoring program for scholarships counter those statistics by encouraging students to compete in monthly speech tournaments to sharpen their public speaking skills in front of their peers, business leaders and community advocates.
"We've all heard about that tree that falls in the forest but doesn't make a noise because there is nobody there to hear it... but what about a student that has an amazing story to share but there is nobody there to hear it... does that story make an impact? At Reality Changers, our speech tournament allows our students with amazing stories to have a tremendous impact on their peers and their communities.," states Christopher Yanov, Founder of the non-profit organization Reality Changers.
Miranda Niederle, Accountant & Financial Analyst, Sempra Energy shares, "It takes such courage to get up and talk in front of a crowd and speak. However, these young adults took it a step further and talked about their most personal and painful experiences and how they worked through them. It was truly admirable and inspiring. Great job!"
Reality Changers' mission is to provide inner-city youth from disadvantaged backgrounds with the resources to become first generation college students by supplying academic support, financial assistance, and leadership training. America's Finest – Reality Changers' 12th Annual signature year-end event is a celebration for the 100+ students graduating from the 4-year program on Sunday, May 20, 2012, 3pm at the University of San Diego's Jenny Craig Pavilion, 5998 Alcala Park, San Diego, CA 92110.
To learn more about Reality Changers, please visit their website at http://www.realitychangers.org or contact Marshela Salgado, Vice-President of Communications via phone at (619)516-2219. For daily updates, follow them on Facebook.com/RealityChangers.