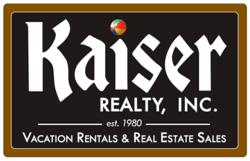 "As a company mission, we strive to exceed expectations with our guests and in the community; and with this event, we've managed to even exceed our own" -Emily Gonzalez, Marketing and Public Relations Director
Gulf Shores, AL (PRWEB) April 27, 2012
Kaiser Realty, Inc. had an excellent showing at the 2012 Relay for Life in Orange Beach this past weekend by exceeding their yearly fundraising goal by more than 50%. Originally setting a $5,000 goal, the Kaiser Realty, Inc. team set up various fundraising events over the past months to bring the community together, raise awareness for the need of cancer research and ultimately, to raise funds for the American Cancer Society's Relay for Life program.
"Many of our fellow Kaiser Realty team members have been affected by cancer in one way or another," stated Kimberly Ray, Assistant Front Desk Manager with Kaiser Realty, Inc. "We wanted to do everything in our power to raise the most money for cancer research, and by surpassing our yearly goal, we proved that we could truly make a difference!"
Throughout the Relay for Life season, Kaiser Realty, Inc. held events such as a Bake Sale, Yard Sale and their annual Cycling the Coast for a Cure bicycle ride as fundraising efforts. Each event proving to be more successful than its predecessor, the Kaiser Realty, Inc. team quickly determined that their original goal was increasingly achievable.
Alongside the great efforts put forth as a team, various Kaiser Realty, Inc. team members helped to make a powerful impact on this year's event. Real Estates Sales Administrative Assistant, Paige Burris Chappelle, used the novelty of her "Leap Year Day" birth to help raise $900 by "leaping" out of an airplane onto the main beach in Gulf Shores. In addition, Reservation Director, Connie Carlisle, hosted a Party Lite candle brochure party donating all of her proceeds to the cause.
Kaiser Realty, Inc. also displayed superb company involvement at the overnight Relay for Life event. Sandy Davenport, Real Estate Agent, led all interested attendees in a fun and energetic Zumba class. Designed to engage participants and help put a little "pep" back in their step during the late night hours, Davenport received countless thanks and rave reviews for her session.
Leadership and devotion to such notable causes are what make Kaiser Realty, Inc. team members stand out within the community and helps bring together families, neighbors and local leaders together to strive for change.
"We are incredibly proud of the Kaiser Realty team and all of the hard work that has gone into exceeding this goal." says Emily Eiland Gonzalez, Marketing/Public Relations Director. "As a company mission, we strive to exceed expectations with our guests and in the community; and with this event, we've managed to even exceed our own"
Kaiser Realty, Inc. would like to recognize community member Sheila Williams, who raised more than $1,500 for Cycling the Coast, making a distinct impact on the Kaiser Realty, Inc. fundraising goal, as well as the following event sponsors for their generosity and participation in helping make the 2012 Relay for Life events successful: Eastern Shores Cycles, Amazing Eyes, Baldwin EMC, Bayside Signs, C Sharpe, The Original Oyster House, The Gulf Shores and Orange Beach Sports Commission, Lower Alabama Parrot Head Club, LuLu's at Homeport Marina, Sunny 105.7, Pensacola Pools, Road ID, and Tacky Jack's.
###
Contact:
(251) 968-6868
Follow Up Questions: Emily E. Gonzalez, Marketing/Public Relations Director EmilyG(at)KaiserRealty(dot)com
Written and Distributed By: Adam Pfaff, Public Relations Coordinator AdamP(at)KaiserRealty(dot)com
http://www.KaiserRealty.com
About Kaiser Realty, Inc.: Since 1980, Kaiser Realty, Inc. has been renting, selling and managing the finest vacation homes and condominiums available in Gulf Shores and Orange Beach. With the blue green waters and sugar white sand beaches of the Gulf Coast, it is hard to find a more beautiful location for your next home or home-away-from-home. Offering Gulf front condominiums ranging from 1 to 6 bedrooms and vacation homes sleeping up to 30 people, Kaiser Realty will help you create the perfect vacation, retreat, wedding or work function. Visit us at http://www.KaiserRealty.com or call (800) 225-4853 to speak with one of our Reservation Professionals, Sales Representatives or Rental Managers today!
Corporate Mission: "Kaiser Realty, Inc. has a tradition of fulfilling dreams for our customers, our employees and in our community. Our philosophy is to deliver exceptional, professional service with integrity, enthusiasm and a genuine caring attitude. Whether it's for a vacation or a lifetime, our family is committed to yours."