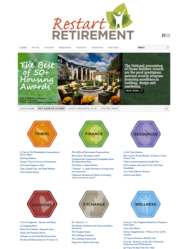 This site has exceptional variety -- everything from wellness and caregiver information to finance and travel for seniors.
Lancaster, Pa. (PRWEB) April 27, 2012
Willow Valley Retirement Communities is pleased to announce that its Restart Retirement blog, an online resource for seniors, was named the top finalist in SeniorHomes.com's Best of the Web 2012 in the category Best Blog by an Organization.
"This site has exceptional variety…," notes the SeniorHomes.com website. "—everything from wellness and caregiver information to finance and travel for seniors. The site's resources are helpful and include uplifting stories with video of seniors following their passions."
More than 25 authors contribute to the blog, including leading authorities discussing mature living topics as well as actual Residents of Willow Valley Retirement Communities who are enjoying the next exciting chapter of their lives.
There currently are more than 95 articles archived on the site and at least two are added every week. The blog is enjoying steady growth in readership, with a 30% increase monthly during the first quarter of 2012.
The overall goal of Restart Retirement is to entertain, educate, provide information, encourage debate, and provide an online community for its participants.
About Willow Valley Retirement Communities
Willow Valley Retirement Communities, founded in 1984, is located just south of the City of Lancaster, in South-central Pennsylvania. Its latest expansion is Providence Park at Willow Valley. A not-for-profit, independently operated continuing care retirement community (CCRC), it is nationally recognized as a retirement destination welcoming residents who have relocated from 37 states.
Willow Valley's standard-setting Lifecare Agreement provides long-term care at a predictable cost, with no increase of fees for a higher level of care. Financial performance is affirmed by Standard and Poor, Fitch "A" Category ratings, and CARF-CCAC accreditation. Residences at WVRC range from 800 to 3,200 square feet. Community features include an 80,000-square-foot Cultural Center, several scenic ponds, and expansive manicured courtyards with large outdoor fire-pit features. The National Association of Home Builders conferred Gold Achievement Awards to WVRC for Best Dining Experience and Best Lifestyle Programs in 2012. For more information, call 800.770.5445 or visit http://www.willowvalleyretirement.org or learn about its latest expansion at http://www.providenceparkliving.com.