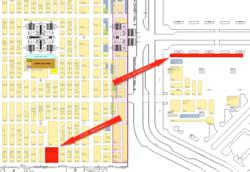 Now with all the space we can fully demonstrate the all of the features of our exciting product line
Newcastle, CA (PRWEB) April 28, 2012
Extreme Engineering, the world leader in climbing walls, zip lines, jumper systems and adventure products signs up for record size booth space during this year's IAAPA in Orlando Florida. "We decided to go much bigger at IAAPA. We will have both a 50 x 60 booth indoors and a 10 x 300 booth space at the outside entrance to display the new 300 foot long zip line," states Philip Wilson, Director of Marketing with Extreme Engineering. With 6,000 square feet of exhibit space, Extreme Engineering will have climbing walls, the Extreme Air™ jumper system, a new inflatable Balloon Battles™ and two zip lines on display. "Now with all the space we can fully demonstrate the all of the features of our exciting product line," explains Ryan Lucia, Sales Manager with Extreme Engineering.
Philip Wilson is also on the booth allocation committee with IAAPA and spent two long days in the Washington DC area placing exhibitors on the show floor. "IAAPA has made history and broke the record on most exhibit space sold for 2012. The show is already 86% sold out with an anticipated 23,000 attendees coming to the show," says Wilson. Extreme Engineering will be ready for 2012 with two new zip line models, a new climbing wall system, Balloon Battles and Extreme Air™ Jumper system. "The attendees will be blown away," says Lucia.
This will be Extreme Engineering's 17th year exhibiting at IAAPA with all of their climbing walls, new zip lines, jumpers and other adventure products. IAAPA is the world's largest amusement organization, hosting the one of the top 5 "must attend" trade shows. With over a million square feet, nine square miles, of exhibit space there is no show in the world like it. Extreme Engineering will be ready to take on the large crowds and provide the excitement with all of their climbing walls, zip lines and adventure products.