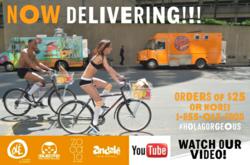 Boston, MA (PRWEB) April 26, 2012
Bostonians got an eyeful Wednesday, April 26th, 2012, when the Olé Restaurant Group celebrated the launch of its new bike delivery service from its Zócalo Cocina Mexicana location with surprise food drop-offs made by delivery drivers clad only in underwear. Recipients included some of the major lifestyle print publications in the city.The Mexican restaurant group caught the suprise reactions on a video released on youtube called "#holagorgeous!"
The video can be seen online here: http://www.youtube.com/watch?v=jFOGdyyOPXw&feature=youtu.be
Mobile Users: http://vimeo.com/41099913
Use the Hashtag #holagorgeous to join the conversation.
Delivery service to the general public will begin on Monday, May 7th, 2012 from Olé Restaurant Group's Zócalo Cocina Mexicana, located in Boston, MA.
The upscale, award-winning restaurant will offer bike delivery service throughout the South End and portions of the Back Bay for orders of $25.00 or more (delivery charge may apply if out of delivery area). Guests can log-on to http://www.olerestaurantgroup.com to view the takeout menu and call its new toll free line at 855-653-3663 (855-OLE-FOOD), where they'll be greeted by a welcoming, "Hola Gorgeous!" and led through a series of prompts to get the goods! Olé Mexican Grill located in Cambridge, MA will follow suit soon offering residents of Cambridge, MA a similar service (TBA)!
Hours of delivery for Zócalo Cocina Mexicana are as follows:
Monday through Friday Lunch: 11:30AM—3:00PM;
Sunday – Thursday Dinner: 5:00PM—11:00PM
WHEN: Beginning Monday, May 7th, 2012
WHERE: Zócalo Cocina Mexicana, 35 Stanhope Street, Boston MA 02116
MENU: http://www.olerestaurantgroup.com/wp-content/uploads/2012/04/takeout1.pdf