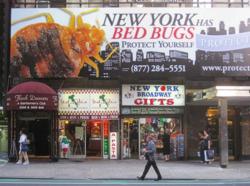 ...the public is now more aware about the pests and how to get rid of them effectively.
Cincinnati, OH (PRWEB) April 29, 2012
Bed bugs are some of the worst pests to exterminate. However, a recent news from dnainfo.com said that New York was winning the war against the blood-sucking pests. And in its latest post, BedBugBully.com pointed out the reason why their widespread slowed down. Additionally, the website advised to kill bed bugs naturally for the public to protective themselves from the pests safely.
According to the report, the waning of the bed bug epidemic in the city started in 2011. The bed-bug-related complaints in Manhattan particularly numbered from 2,649 in 2010 to 2,361 in 2011. That's about 11 percent decrease in bed bug cases.
The city's Department of Housing Preservation and Development also recorded a drop in called-in bed bug violations said the report. In 2010, the department issued 846 violations in Manhattan. That dropped to 649 in 2011.
However, despite the decreased in the number of bed bug cases and the eased frenzy about the pests, the city hiked up efforts to spread awareness about bed bugs, added the report. As said by Eric Bederman, spokesperson of Health Preservation and Development Department, that's the best weapon to prevent their spread.
Below is part of the post 'Bed Bug Cases in New York Decreases' by BedBugBully.com.
"For sometime now, bed bugs have captured the attention of the public – though not in a good way. And with the many unpleasant things that are linked to them, panic goes with their presence. Actually, even in their absence.
It was in 1940s when bed bugs were thought eradicated. After some 60 years of hiatus though, they were back and causing havoc again. And man, do they do it fast and smooth. But along with that came a lot of questions about bed bugs."
Read more about Bed Bug Cases in New York Decreased at: http://www.bedbugbully.com/bed-bug-risks-overrated/
While others say that the waning of panic over bed bugs is because people now know that they are not much of a threat as they were made out be, BedBugBully.com believed that's not it. It reckoned that the frenzy eased off mainly because the public is now more aware about the pests and how to get rid of them effectively.
In addition, the site also pointed out the two major methods to kill bed bugs. However, for those who choose to clear off the pests by themselves, it recommended that they do it with the a safe bed bug spray as Bed Bug Bully. It stated that with such safe product, one can kill bed bugs naturally and avoid the dangers of chemical ingredients.
Get a sample of Bed Bug Bully. Visit http://www.bedbugbully.com today.