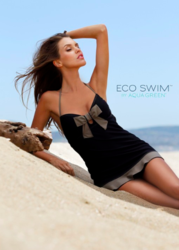 We are as committed to solving problems as our customers are.
Easton, PA (PRWEB) April 30, 2012
Of all the causes socially conscious consumers can support, environmental sustainability and supporting small business entrepreneurship rank the highest for North American consumers. As a small business initiative launched within a more established family-owned company, ECO SWIM BY AQUA GREEN is connecting with socially conscious customers in a real way.
The Easton, PA based retailer launched in 2011 with a line of sexy and sustainable swimwear. From the beginning, the brand paid deference to both style and to the environment, using fabrics made from recycled water bottles and fishing nets to create styles inspired by their designer's trips to European runways. ECO SWIM BY AQUA GREEN also hosts regular ocean and waterway cleanups with environmental partner United By Blue.
Like many new brands, ECO SWIM BY AQUA GREEN understands that championing a cause isn't just good for business, it's good for everyone. "The demographic of customers who choose to purchase from socially responsible companies is exploding, so there are obvious marketing benefits of communicating that we are as committed to solving problems as our customers are," says Alex Waldman of ECO SWIM BY AQUA GREEN.
Indeed, according to the Nielsen Global Survey of Corporate Citizenship, "Ensuring Environmental Sustainability" was ranked as the number one most important cause for socially conscious consumers across global markets.
For ECO SWIM BY AQUA GREEN, though, connecting with consumers is only one piece of the puzzle.
"To really understand why we're committed to keeping beaches clean for future generations you have to understand the story of ECO SWIM BY AQUA GREEN," says Waldman.
ECO SWIM BY AQUA GREEN's parent company was founded in 1937 by Waldman's great-grandfather. It was the heyday of American entrepreneurship, and after many years of hard work, the family-owned and operated business became one of the leading manufacturers of swimsuits in America. Even when many companies sent their manufacturing overseas, the Waldman family still manufactures many of their swimsuits in the US.
Four generations later, the Waldman family faces a different world and rougher seas than the first. In 1937, plastic was rare both on store shelves and in the water. Today, plastic and other debris covers beaches on our coasts and on islands thousands of miles from shore. Masses of plastic soup float in each of the major ocean gyres, or currents, and over 14 billion pounds of trash enter oceans and waterways every year.
ECO SWIM BY AQUA GREEN was conceived and developed to address the problem of ocean plastic pollution by cleaning up what its team can clean up and by raising awareness.
"Our family has always been committed to making women look and feel great on the beach. But how can you feel great when the beach is dirty?" says Waldman. "So we decided to use our family's several decades of experience in swimsuits to address that problem."
ECO SWIM BY AQUA GREEN operates much like a small business or start-up: a dedicated team with lots of passion conceives and develops products according to new environmental processes. And as a small business, ECO SWIM BY AQUA GREEN appeals even more to North American consumers, who ranked supporting small business and entrepreneurship as the most important cause for companies to support.
"What better way for our grandfather's business to support a small business that helps the environment then to go out and start one?" says Waldman.
ECO SWIM BY AQUA GREEN is the world's leading sustainable swimwear brand, making suits from recycled materials. ECO SWIM BY AQUA GREEN is based in Easton, PA and its swimsuits can be purchased at specialty and department stores as well as on select websites. For more information about ECO SWIM BY AQUA GREEN's environmental leadership, swimwear and events, visit the web site at http://www.ecoswim.com, find the brand on facebook at http://www.facebook.com/ecoswim, and follow the company on twitter @eco_swim.
The Nielsen Global Survey of Corporate Citizenship was conducted in August/September 2011 and polled more than 28,000 consumers in 56 countries.