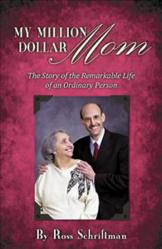 "My Mom was a remarkable person with many talents." said Schriftman. "Her proudest accomplishment was raising and caring for her four sons."

Maple Glen, Pa (PRWEB) April 27, 2012
Ross Schriftman has published his first book, My Million Dollar Mom. It tells the story of his mother Shirley Schriftman and highlights the struggles of life including Mrs. Schriftman's battle with Alzheimer's. The caring relationship of a son and his mother will be an uplifting experience for the reader.
"My Mom was a remarkable person with many talents." said Schriftman. "Her proudest accomplishment was raising and caring for her four sons."
"Although part of the book talks about the difficult last few years of my Mom's life, most of it instead focuses on her talents and her love for others. She was a teacher, gardener, politician, patriot, friend, advocate, daughter, sister, wife, mother, grandmother and great grandmother." said Schriftman. "She was even an excellent writer with much of this is demonstrated in the book which contains her stories and letters. My Mom was a wonderful person who loved dancing, singing, her family and all of the good things that life can bring."
Schriftman hopes to bring awareness of the need for long term care planning and how families can manage through the difficult and long process of caring for a loved one with conditions like Alzheimer's disease. He hopes to bring his message to as many people as possible through speaking engagements and book signings. He also wants to help organizations that work with and support care givers.
My Million Dollar Mom is published by Infinity Publishing and can be found at http://www.buybooksontheweb.com/product.aspx?ISBN=0-7414-6713-5
About the Author
Ross Schriftman was a devoted son. In addition to his love of family, Ross has been active in politics for more than 40 years. He ran for Pennsylvania State Representative in 1974, 1976 and 2004 and Montgomery County Controller in 1979. He has been an insurance agent since 1975 and specializes in Medicare and long-term care insurance. Professionally, he served as the Associate Chair for Long-Term Care for the National Association of Health Underwriters from 2001 to 2003 and Legislative Chair of the Pennsylvania Association of Health Underwriters from 1994 to 2003.
Mr. Schriftman served as Regional President of the National Federation of Temple Brotherhoods in the 1980s. He is an avid runner and has participated in marathons since 1970. Though Schriftman is a frequent speaker and writer on health care issues and public policy, My Million Dollar Mom is his first published book.
For more information on speaking engagements and book signings call Ross Schriftman at 215-682-7075 or email him at rfs270 (at) aol (dot) com.