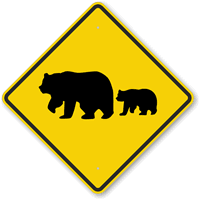 "Our sign sizes are measured using the 'sign as square' method," said Cole Paulson, Manager of RoadTrafficSigns. "Our method allows customers to buy signs without raised prices."
Brooklyn, NY (PRWEB) April 27, 2012
RoadTrafficSigns.com is issuing new Animal Crossing Signs to protect wildlife and livestock. The new signs alert drivers of bears, cattle, and other types of animals crossing the road. Visible messages are ideal for keeping animals and drivers safe and happy.
Road collisions with animals result in grave fatalities and injuries. One article on automotive-fleet.com discusses how animal-vehicle collisions have increased 110 percent in the US during the past 18 years. About 77 percent of animal-vehicle collisions involve deer. Naturally, higher posted speeds resulted in a greater crash risk, especially in the dark. Drivers must slow down and crossing signs are an excellent warning system.
The new signs are tailored to describe each specific animal crossing. A "Be Alert for Bears" sign stands apart with black font on a white background with a big bear graphic. Another accompanying sign is a "Bear Crossing" sign in black and yellow MUTCD form. No pet owner would want to lose a puppy to a motor vehicle crossing, which is why RoadTrafficSigns is promoting a new 'Dog and Puppies Crossing' sign. Deer crossing signs should curb the casualty statistics of deer colliding with vehicles. Other popular options are new chicken crossing signs and adorable turtle crossing signs for domestic animals.
Hundreds of custom templates are available to create personalized signs. The signs are municipal grade, professional products comprised of durable aluminum that will last for up to fifteen years. A key factor with road crossing signs is visibility to stand out for miles during the day or night, and therefore RoadTrafficSigns utilizes bright 3M ink. Additionally, signs have been designed for inexpensive costs. "Our sign sizes are measured using the 'sign as square' method," said Cole Paulson, Manager of RoadTrafficSigns. "'Tip-to-tip' measurements would be 1.4 times taller than measuring as a square and result in a higher cost for the additional measured material. Our method allows customers to buy signs without raised prices."
For more information on the new Animal Crossing Signs, visit http://www.roadtrafficsigns.com/Crossing-Signs/Animal-Crossing-Signs.aspx.
About RoadTrafficSigns.com
RoadTrafficSigns is the leading online distributor of MUTCD traffic signs. The signs are made with long-lasting 3M ink and offered in multiple reflective grades. Customers can create signs using convenient customization wizards.
About SmartSign
SmartSign is one of America's fastest growing e-commerce companies and parent of MyAssetTag.com, MyParkingSign.com, as well as more than 50 other sites. The company manufactures and distributes a wide range of signs, tags, mats, and labels. In the past, many consumers have found it hard to find, hard to design and hard to order signs with the right message. By positioning "signs as solutions," SmartSign has taken an entirely different approach. Through highly targeted, content-rich, and authoritative retail sites, the company provides specific solutions to specific problems, such as customizing an asset tag. SmartSign is widely recognized for its quality construction; its signs come with a 3M® warranty and outlast fast-fading, ink-jet signs. Other SmartSign advantages include fast and free shipping, the Web's largest range of designs, and a best-price guarantee.