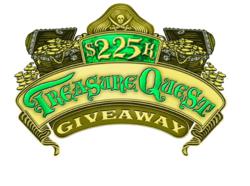 "We're inviting all of you to bring your meeting to one of the country's most beautiful coastal areas," Bill Leaman, general manager of the Emerald Coast Convention Center
Las Vegas, NV (PRWEB) April 27, 2012
Bill Leaman, general manager of the Emerald Coast Convention Center at Destin • Fort Walton Beach • Okaloosa Island, FL, launched a national promotion yesterday at Collaborate Marketplace 2012 that gives meeting planners throughout North America a chance to win meetings totaling $225,000.
The online Treasure Quest Giveaway consists of five prizes: one $100,000 grand prize; one prize of $50,000; and three prizes of $25,000 to qualified groups based on select classifications and criteria.
"We are located on the beautiful Emerald Coast of Northwest Florida, where we are known for our sugar-white sand beaches and sparkling clear emerald waters," said Leaman in announcing the giveaway to an audience of 300 meeting planners and some 700 industry suppliers at Collaborate Marketplace 2012. "And we're inviting all of you to bring your meeting to one of the country's most beautiful coastal areas."
Collaborate Marketplace is one of the key industry events for corporate meeting planners. Keynote speaker for today's luncheon, held at the Red Rock Casino & Resort, was Steve Forbes, chairman and editor-in-chief of Forbes Media.
Meeting planners throughout the United States and Canada are eligible to enter the promotion on behalf of qualified groups and organizations. Contest rules and applications are available online on April 25 at http://www.TreasureQuestGiveaway.com. In addition to completing the online application, entrants also submit a 500-word essay that includes a description of the organization and meeting; advantages for their group to hold a meeting on the Emerald Coast; and how the organization would spend the "treasure chest" of prize money.
Winners can use the prize money for facility rental, audiovisual services and catering at the Emerald Coast Convention Center, as well as hotel accommodations, certain travel expenses and recreational activities on the Emerald Coast. The winning organizations must hold their meetings by the end of 2016.
The Emerald Coast Convention Center is the only full-service meeting facility in the Destin/Fort Walton Beach/Okaloosa Island area. Rimmed by 24 miles of spectacular sugar-white sand beaches, Northwest Florida's beautiful Emerald Coast has been named by Southern Living magazine as the "number one Beach Town in the South" for 14 consecutive years. The area offers more than 13,000 accommodation units, with 2,000 sleeping rooms within walking distance of the Emerald Coast Convention Center.
Media Contact: Cynthia Maddox
cynmaddox(at)lewiscommunications(dot)com
251-476-2507