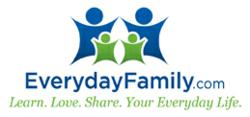 Life stage marketing reaches the right audience at the right time.
Tampa, Florida (PRWEB) April 28, 2012
EverydayFamily, Inc. is pleased to announce the launch of its new corporate website, http://www.everydayadsolutions.com. Combining professional design elements with easy navigation, the website's prime highlight is being able to better communicate our compelling story to Brands, PR and Ad agencies. The new site represents the expanded Everydayfamily.com community, where three million members find rich editorial content and interactive tools to help them stay connected while building short lists of brands they want to do business with.
"The changes represent a milestone for accurately representing EverydayFamily, Inc. on the business-facing side of our company," says Noah Anderson, CEO. "Our integrated 360 degree approach to strategic marketing will now provide clients and their agencies with expanded access to our portfolio of multi-media products, which include custom video solutions, database marketing, bespoke advertising solutions, consumer insights and consumer facing events."
Fast, stylish and packed with essential information, http://www.everydayadsolutions.com is designed to ensure the most effective and transparent communication with agencies, brands and other stakeholders. The functionality, ease of use and accessibility of relevant information have been at the forefront of the design and construction of the site, further establishing EverydayFamily, Inc. as an innovator in the life stage advertising space.
According to Tony Golden, Director of Business Development, "We are reinforcing our position in the integrated-media landscape with a comprehensively revised corporate website, a new online media kit presence and a new corporate design that delivers an introduction to custom ad programs, engaging consumers with our clients' brands in a meaningful way."
About EverydayFamily, Inc.
Named to the Inc. 500 |5000 list of fastest growing private companies two consecutive years in a row, EverydayFamily (EF) is a family driven website – in every sense – featuring a growing community of over three million members who share their everyday parenting experiences. EF is an online home and established resource for experts and parents who have advice and information to share, as well as those who are seeking guidance and support as they move through their family's journey, from preconception, to preschool, and beyond. EF invites everyone to get comfortable and share stories, thoughts, advice, and opinions with other families. The editors at EF, as well as the entire EF community, are dedicated to providing daily content for families seeking advice, information, and support… and to giving back to the communities supporting us.