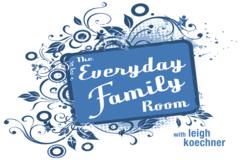 We are stoked to have Leigh Koechner hosting an EFTV Channel!
(PRWEB) April 27, 2012
EverydayFamily (http://www.EverydayFamily.com ) has teamed up with mom, blogger, performer and host Leigh Koechner to bring its more than 3 million members a daily dose of interactive parent talk, with the launch of "The EverydayFamily Room". Produced by B'Kos Media and helmed by award winning show-runner, Kathee Schneider this online series, The EverydayFamily Room starts with the very best of your favorite educational and inspirational shows, while adding the expertise of industry experts, celebrity parents and "Everyday" moms and dads, in a format designed to drive show engagement on a daily basis. EverydayFamily Room segments are delivered weekly in 3-5 minute episodes.
"We are very excited to partner with B'Kos Media for our inaugural video series 'The EverydayFamily Room with Leigh Koechner'," states Tony Golden, Director of Business Development. "The EverydayFamily audience can relate to Leigh, she brings a level of enthusiasm, fun and candor with topics that are hyper-relevant to our community."
About EverydayFamily.com:
EverydayFamily (EF) is a family driven website – in every sense – featuring a growing community of over three million members who share their everyday parenting experiences. EF is an online home and established resource for experts and parents who have advice and information to share, as well as those who are seeking guidance and support as they move through their family's journey, from preconception, to preschool, and beyond. EF invites everyone to get comfortable and share stories, thoughts, advice, and opinions with other families. The editors at EF, as well as the entire EF community, are dedicated to providing daily content for families seeking advice, information, and support… and to giving back to the communities supporting us.
For advertisers, sponsorship opportunities and creative integration go well beyond banner ads, and transition marketing messages into an uninterrupted part of the user experience.
About Leigh Koechner:
The mother of five children and happily married to actor, David Koechner, Leigh Koechner is raw, honest, and funny. Having survived near death complications during the birth of her first child, Leigh's joy is to inspire others to embrace the world and reach other with an open mind, heart, and arms. Through this message, Leigh has helped women lift the veil of fear and live with compassion and guts. As of result of her positive approach, Leigh was chosen by Oprah Winfrey, out of 18,000 submissions, to be a contestant on the talk show competition "Your OWN Show". She also wrote and performed her one-woman show "Miss Junior Overland Park", which was filmed and aired as a part of Oxygen's "Life Out Loud" series. Leigh currently leads an inspirational women's group called FEMSPIRE in Los Angeles and is writing a memoir about her emotional journey with gestational surrogacy that lead to the birth of four of her beautiful children. Through EverydayFamilyTV, Leigh is excited to engage parents across America to show that blessings come from both life's peaks and valleys.
About B'Kos Media and Marketing:
B'Kos Meda and Marketing is a firm that provides strategic consultation and implementation of media and targeted marketing to various size manufacturers, individuals and media companies. Services include the development and production of branded content - both written and video, marketing and media placement, licensing and merchandising, client acquisition and product placement services.