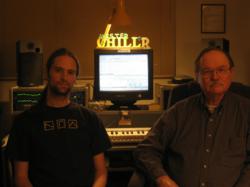 Portland, OR (PRWEB) April 27, 2012
True innovation in electronic music is as uncommon as in any other art form, and the remix of "Altimetry" is a case-in-point. A quick listen to the original song by Jirah reveals an uplifting, pulsating trance beat, the like of which is far more commonly heard and appreciated in European countries. Chaos Control has taken that beat and turned it into something that dubstep-crazy Americans can better relate to, without losing the euphoric vibe and impeccable sound design of the original track.
Psy-trance is a sub-genre of trance music that arrived on the scene near the turn of the century. Similar to trance, but faster tempo and with an emphasis on strange noises, it still enjoys a great deal of popularity around the world. Jirah was one of the first American psy-trance artists, and is a widely-respected producer in the genre.
Chaos Control's plans for genre-bending madness have only just begun. The unusual duo, consisting of Planewalker and Mister Chill'R, have been cranking out tunes together for over 4 years, and have a large number of releases scheduled for 2012 on their new record label, Waveguild.