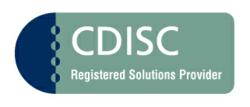 Sponsors need to find qualified partners that have the expertise to efficiently convert their clinical data to CDISC standards.
Sunnyvale, CA (PRWEB) April 30, 2012
Clinovo announces that it has successfully attained the status of CDISC® Registered Solutions Provider by the Clinical Data Interchange Standards Consortium (CDISC) organization. With this milestone, Clinovo demonstrates its active participation in the pharmaceutical industry in the implementation of clinical standards.
Clinovo was recognized with the official status of CDISC Registered Solutions Provider for its valuable CDISC service offer to pharmaceutical companies. Clinovo is a registered official subject matter expert in the following CDISC standards: Clinical Data Acquisition Standards Harmonization (CDASH), Laboratory Data Model (LAB), Study Data Tabulation Model (SDTM), Analysis Data Model (ADaM), Define.xml, and Terminology.
Clinovo has been active in the implementation of CDISC standards since 2007. As a CDISC Gold Member, Clinovo has continuously worked on raising awareness, education and expertise on CDISC standards throughout the industry. Benefits of using clinical data standards include improved data quality, streamlined clinical data storage and exchange and faster FDA review.
"As the FDA is getting more and more involved into clinical standards, it has become critical for pharmaceutical companies to become compliant with CDISC", explains Ale Gicqueau, CEO at Clinovo. "Sponsors need to find qualified partners that have the expertise to efficiently convert their clinical data to CDISC standards. Our CDISC Registered Solutions Provider status officially recognizes our internal practices and full capability to implement major CDISC standards".
Since April 2011, Clinovo has freely distributed CDISC Express, the only open source SAS®-based system that automatically converts clinical data into CDISC SDTM. Over 500 industry professionals have downloaded the eClinical system since its launch at the annual 2011 PharmaSUG Conference, including worldwide leading life science organizations.
​Clinovo CDISC services include full clinical study mapping to SDTM, CDASH and ADaM implementation, CDISC conversion from any clinical database, submission review, and advanced training. Clinovo is the only contract research organization (CRO) to offer different service packages to meet the different needs of the pharmaceutical industry: a BASE package that includes mapping 4 domains, a PRO package that includes mapping 12 domains and an ENTREPRISE package including mapping 20 domains.
On March 7th 2012, Clinovo sponsored the third Silicon Valley BioTalks inviting top-tier CDISC experts to discuss "How CDISC Standards Streamline Clinical Trials". The panel discussion was composed by clinical trial professional from Roche Molecular, PharmaStat, and Jazz Pharmaceuticals. The industry experts emphasized on the importance for life science companies to comply and implement CDISC standards in a very close future, stating that the FDA will not only recommend, but soon require the use of CDISC standards. "Working and hiring only true CDISC experts recognized by the status of CDISC Registered Solutions Provider is the way to efficiently convert your clinical data to CDISC standards and ensure high quality of your clinical data", they explain.
About the CDISC Registered Service Provider program
The purpose is to advertise information on organizations/companies with CDISC implementation experience and capabilities so that those who need that experience have a place to find CDISC resources. CDISC Registered Solutions Providers are consultants, system integrators, and subject matter that claim to have sufficient knowledge and experience implementing the various CDISC standards to be included in the RSP list.
About cdisc.org
CDISC is a global, open, multidisciplinary, non-profit organization that has established standards to support the acquisition, exchange, submission and archive of clinical research data and metadata. The CDISC mission is to develop and support global, platform-independent data standards that enable information system interoperability to improve medical research and related areas of healthcare. CDISC standards are vendor-neutral, platform-independent and freely available via the CDISC website.
About Clinovo
Clinovo partners with life science companies to streamline their clinical trials, leveraging years of expertise in systems integration, open source technology and industry standards. Clinovo provides Staffing Solutions, eClinical Systems and Biometrics Services including Clinical Data Management, Electronic Data Capture, CDISC Mapping and SAS Programming.