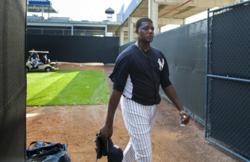 It's a loss- Joe Girardi
Los Angeles, Ca (PRWEB) April 27, 2012
The New York Yankees will be needing a hand (or shoulder)this season as their star pitcher, Michael Pineda, get's arthroscopic surgery Tuesday in New York. He will be out the entire year.
Highly touted New York prospect, Michael Pineda, formally of the Seattle Mariners, went 9-10 with a 3.74 ERA in 171 innings last year as a rookie. Unfortunate for him, his Yankee debut will be held off for at least a year or even more due to a tear in the labrum of his right shoulder.
Pineda's injury became apparent this past Saturday when he felt a pain in the back of his shoulder but initially over 3 weeks ago he complained of a similar pain which was originally diagnosed as minor tendon inflammation. Upon further examination a tear was discovered.
Yankees manager, Joe Girardi, was obviously upset over the news stating "it's a loss" this past Wednesday.
Girardi, is positive Pineda will return in good condition next season and noticed Pineda did not perform to his level during practice. "He just felt like his arm was weak, so it explains why it was weak now," Girardi said. "When and where and how and what we did doesn't matter now. What we have to do is more forward and try to get this kid healthy."
When asked about the Yankees outlook for the season with their new hopeful out, Girardi answered they would be OK with their current rotation because as he simply stated "our guys can pitch".
Who knows how this will truly affect the New York Yankees season. One thing is certain, ticket sales have not slowed down a bit. Upon the recent Yankee news top ticket site, Tickethunteronline.com, announced they will add a 20 % reduction on all tickets this season with promo code "wicked" at tickethunteronline.com.