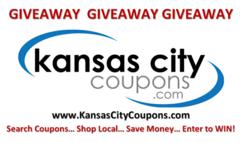 The giveaway encourages Kansas City area consumers to use any of over 350 coupons for local businesses.
Kansas City, MO (PRWEB) April 30, 2012
KansasCityCoupons.com, a destination coupon website providing coupons for hundreds of local Kansas City area businesses, has announced their first giveaway of the year to celebrate surpassing 350 local coupons on KansasCityCoupons.com.
To celebrate, KansasCityCoupons.com is giving away a chance to win a $100 VISA gift card. The opportunity to win starts immediately and runs thru Wednesday, May 9, 2012. Enter to win by Becoming a Member on KansasCityCoupons.com. Follow live updates on the giveaway by Becoming a Fan on Facebook and Twitter.
To learn more about how to win the $100 VISA gift card, check out the information on the Giveaways tab on the website. The winner will be announced on KansasCityCoupons.com's Website, Facebook, Blog, and Twitter on May 11, 2012 at 3:00pm CST.
While entering the giveaway, be sure to check out the coupons on KansasCityCoupons.com offering great discounts for products and services of all kinds including automotive services, home repair services, boutique shops, restaurants, and dozens more.
Search Coupons…Shop Local Businesses…Save Money and enter to win a $100 VISA gift card from KansasCityCoupons.com!
About KansasCityCoupons.com:
Founded in 2011, KansasCityCoupons.com is a locally owned and operated destination coupon website that provides consumers in the Greater Kansas City area with coupons that can be printed or sent by text 24/7 for hundreds of local businesses. To contact KansasCityCoupons.com, please call Von Huber at (816) 537-8978, or visit our Website at http://www.KansasCityCoupons.com.