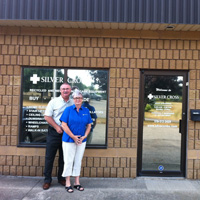 "As our population ages many people are finding that their personal mobility is getting more and more restricted. It is very gratifying to be able to provide solutions for these individuals. " Bruce Lockie
(PRWEB) April 30, 2012
SILVER CROSS®, a national service providing mobility and access solutions for home applications has moved into a new location in Kitchener, Ontario. The service provides information, sales, installation and service for new and used equipment, such as home elevators, roll in showers, walk in bath tubs, electric scooters, stair chair lifts, ceiling lifts, wheelchair lifts, ramps, bathtub lifts and other related products,
SILVER CROSS Kitchener joins Newmarket, Scarborough and Toronto East as new SILVER CROSS® sites opened over the last 24 months, bringing the company total to over 100 franchised or affiliated offices. SILVER CROSS® serves 80 percent of the USA and Canada, and through an on line presence provides information and referrals that match customers with the mobility and accessibility products they need.
SILVER CROSS® locations are locally owned and operated, leveraging the SILVER CROSS® website, database and support resources. SILVER CROSS® - Kitchener is owned by Bruce Lockie, a local resident and previous business owner.
SILVER CROSS® offers a lower cost alternative by providing recycled as well as new equipment. They offer an equipment repurchase plan, and accept trade-ins to meet the demand for recycled equipment, providing reconditioning as required. The company also offers service and maintenance contracts. Over 210,000 customers have used SILVER CROSS® since its launch in 1993. Go to the SILVER CROSS blog for more information.