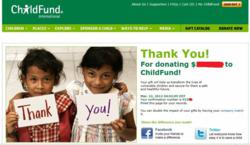 Oasap is an online fashion women's clothing store with a wide range of selection, I missed in the pieces.
--Jenny Nanne
New York, NY (PRWEB) April 28, 2012
OASAP is not a professional charity. On the occasion of the entrepreneurial stage, OASAP staff hopes to do whatever good. "The roses in her hand, the flavor in mine", we hope not only to share a beautiful story, but also to spread the legend of love in the process of growing OASAP.
OASAP Charity Project will accumulate funds by two ways: oasap.com will donate 1% of total payment for each paid order or customers can pay extra $0.5 when they check out from OASAP order. All the contribution will be put into a fund pool. OASAP will find online professional charities to carry out this plan and is inviting interested parties to get involved.
The mission of OASAP Limited is to deliver fashion and beauty to radiate love and happiness. Its oasap.com mainly provides the most fashion women products, including clothing, shoes, bags, and so on. Although OASAP is still at an early stage, it believes that to spread love and charity is the most important meaning of existence outside of the profit as a human organization. And that people who love beauty and fashion will also echo the meaning of love and charity in their hearts. OASAP agrees with the viewpoint which is put forward by Philip Kotler in his book "Marketing 3.0", i.e., in this new era, the development of enterprises will be converted to values-driven, and to interact in mind and soul with those customers who have the common values with them. With Charity Project, OASAP is glad to accompany with consumers to practice the consistent attitude to beauty, fashion, love and charity of their lives in the process of shopping and consumer behaviors.
OASAP Charity Project will be carried on persistently, however, since OASAP is in its early stage of startup, OASAP hopes to gain more support from people that identify with OASAP values to make OASAP be more powerful and thus promote the project to increase publicity.
"Let us work together to witness love and company to grow from the scion to a towering tree! " OASAP PR manager Charlie said.