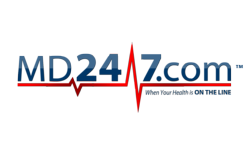 Telemedicine is the future!
Tampa, FL (PRWEB) April 27, 2012
Telemedicine leader MD247 announced a new plan on Thursday, inviting members of the telemedicine program to openly suggest new programs to add to the existing MD247 offerings. All members interested in participating can visit http://www.facebook.com/md247dotcom.
Telemedicine provider MD247 explains that it is difficult for the staff of a company to define "branding," or the idea of a "brand experience," due to the relative proximity of the employees to the product. It is stuck in the heads of people working, that work is being completed in the most efficient level possible in an effort to bring customers innovative products which will make life better in increments. What gets lost in translation for employees, is the reality that what is looked at as a fantastic innovation in telemedicine technology does not mean a heck of a lot to families. What matters to the members of the telemedicine program family is "how" telemedicine technological program advancements, as well as supplemental programs build a better life.
Telemedicine is not a typical product; it is not a bagel from the local Bruegger's Bagels, and it is not the new iPhone with a digital personal assistant. Telemedicine is actually a product which will affect the very fiber of the way that people live; making it possible for every person in the United States to be able to call and talk to a doctor at any time of the day or night from any location. Telemedicine takes a problem that has plagued us for the whole of human existence, how to feel better quickly, and it gives the answer right in the palm of the hand. Telemedicine makes it possible for people to feel well enough to go out for that bagel or gets someone thinking about which smartphone can best support the need a family has for getting in contact with MD247. In order to help MD247 see just what it takes to make people understand how telemedicine can make life better, the telemedicine marketing team needs to hear from real people and integrate thoughts and feelings into tasks daily.
MD247 invites all participants in the telemedicine program, as well as those who have some kind of interest in telemedicine, to please reach out to MD247 on Facebook to discuss just which program additions MD247 should make. As a company, MD247 will then leverage our telemedicine technology and business relationships to build you the best telemedicine product.
MD247.COM (MD247; MD24/7; MD/247; M.D. 247; MD 247) is a Largo Florida based telehealth healthcare service provider. In addition to telehealth services, MD247.COM provides discounted pharmacy programs, discounted "in person" healthcare visits and discounted veterinary services for the four-legged family members. MD247.COM can be located online at http://www.md247.com, can be contacted by email at cs(at)md247(dot)com or can be reached by telephone at 866-232-1343.