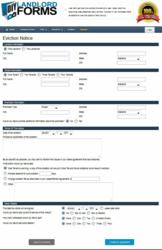 The average time to create a rental agreement is just five minutes.
(PRWEB) April 28, 2012
Creating your rental agreements or eviction notices just got a whole lot easier and cheaper, thanks to some savvy landlords.
Tired of spending hours editing existing rental and tenant agreements to create new forms, or spending hundreds of dollars for lawyers to write up agreements, some tech-savvy landlords have teamed up to create the website DIYLandlordForms.com.
DIY Landlord Forms is exactly as it sounds - landlord forms that you create yourself. However rather than spending hours battling with Microsoft Word, cutting and pasting from previous forms, trying out various templates and having to double and triple check that you have everything covered - you leave all the hard work to DIY Landlord Forms.
How it works is simple - you choose the form you want to create. DIY Landlord Forms offers all the popular forms that landlords need like Residential Agreements, Rent to Own Forms and Eviction Notices.
DIY Landlord Forms then asks you a few questions, to help fill in the form, such as the premises address, and guidelines about the premises such as whether there's a minimum age, if smoking is allowed and if pets are allowed on the premises. The online form is set up so that everything by default is "off" - this saves you a lot of time as you only choose the options that apply to you.
All it takes is a minute of typing, a few clicks of the mouse, and your form is created! The average time to create a rental agreement for example is just five minutes.
What makes DIY Landlord Forms even better is the prices. If you go to a lawyer or notary public, it can cost hundreds of dollars to get your landlord forms created. Who wants to spend $100 just to evict a tenant?
As DIY Landlord Forms is a website ran "by landlords for landlord"(their slogan), their aim isn't to profit from the site, as much as it is to offer a service to fellow landlords. So they offer high quality forms at the lowest possible price point. A rental agreement will cost just $19.95, and an eviction notice just $11 for example.
Even better, is DIY Landlord Forms offers a fantastic feature if you purchase a lot of landlord forms. For example - when you purchase a rental agreement for $19.95 - you're not just purchasing ONE rental agreement. You're purchasing the ability to create UNLIMITED forms for a whole week.
Lead developer of the website, Graeme McGaw, said he couldn't believe what landlords were putting themselves through just to create a simple form.
"I'm not a landlord myself, so when I was contacted about making some sort of software to make landlords lives easier, I asked one of the guys - Tom - to show me the process. He created his own rental agreements at home and I watched what he did. I couldn't believe it. He had over 200 old agreements all on his desktop. He was cutting and pasting from them to create a new one. He had a checklist that he printed off every time just to make sure he didn't forget to include anything. It was crazy!"
Graeme said that the most important factor when it came to creating DIY Landlord Forms was simplicity.
"I wanted to create something where our software did all the hard work. No matter how much of a novice you were at computers - you'd never run into a problem with our website. It held your hand all the way through. We had one guy that created everything on his typewriter. It was great being able to sit and watch him use a computer for practically the first time, and be able to create the form with ease."
DIY Landlord Forms isn't just a strict template either - all of their landlord forms are highly flexible and customizable, so you can tailor them to your needs exactly. If you're concerned about testing out this software then don't worry - they also offer a 100% satisfaction guarantee. If you are not satisfied then you will get your payment back.
DIY Landlord Forms currently offers a wide variety of state-specific landlord forms and template generators, with more on the way. You can see all of their landlord forms and test their online software out for free at http://www.diylandlordforms.com/landlord-forms