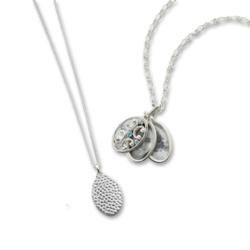 New York, NY (PRWEB) April 27, 2012
Monica Rich Kosann, a fine jewelry and home accessory brand with a shop at Bergdorf Goodman in New York and a distribution that includes the finest Jewelers and specialty stores, announces a Mother's Day photo contest on its facebook page.
The contest starts Friday, April 27th, and runs through Sunday, May 13th. Anyone can enter to win. No purchase necessary. Share your favorite Mother/Daughter photo from your family with us by posting to our Facebook page. On Mother's Day, Monica as well as the team at Monica Rich Kosann will pick their favorite photo based on emotional quality, artistic quality and overall connection with the viewer. The person who submits the photo that is chosen will win two sterling silver lockets, valued at $1320 total. Mother/Daughter photos can and should include relationships with Mothers, Daughters, Grandmothers, Step-Mothers….. in effect, one's important Mother/Daughter relationship.
To enter, go to the Monica Rich Kosann Facebook Page and upload your picture to our wall.
http://www.facebook.com/MonicaRichKosann
The winner will be announced on our Facebook Page on Monday, May 14th.
About Monica Rich Kosann
Monica Rich Kosann's eponymous jewelry and home collection offers modern heirlooms that maintain a sense of fashion and timeless style, rooted in the concept that every woman has a story to tell. Known for 18-karat gold and sterling silver lockets, charm bracelets, and image cases, the brand strives to help customers celebrate their most cherished memories through their own personal style. Monica's collection is sold in the brand's signature shop in Bergdorf Goodman and over one hundred fine jewelers and specialty stores including: Neiman-Marcus, Richard's and Mitchell's. A nationally recognized fine-art portrait photographer, Monica Rich Kosann is also a published author of two lifestyle books, The Fine Art of Family and Living With What You Love, and has been featured extensively in national magazines and on television. She was awarded the FGI Rising Star Award for Fine Jewelry in 2010 and is also a member of the CFDA (Council of Fashion Designers of America).