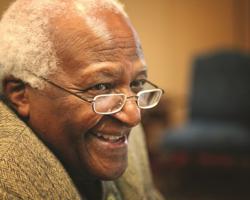 Grand Rapids, MI (PRWEB) April 27, 2012
Zondervan has announced a collaboration between Nobel Peace Prize Winner, Archbishop Desmond Tutu and New York Times best-selling author and illustrator, Nancy Tillman. The pair has signed on to create a unique picture book based on the creation story from Tutu's highly successful Children of God Storybook Bible.
The picture book will feature Nancy Tillman's whimsical and imaginative illustrations bringing to life Archbishop Tutu's heartwarming narration about God's wonderful creation. Zondervan holds world rights to the project and plans to release the premium picture book in Spring 2014.
"Zondervan is thrilled to bring together these two influential authors to create this one-of-a-kind picture book," notes Annette Bourland, Senior Vice President and Publisher, Trade and Kidz at Zondervan. "The final product will be a delightful culmination of art and story – a book families will treasure for years to come."
Archbishop Tutu is the author of many books, including the Children of God Storybook Bible, published by Zondervan in 2010. Archbishop Desmond Tutu was awarded the Nobel Peace Prize in 1984 for his lifelong struggle to bring equality, justice, and peace to his native country of South Africa. In 1986, he was elected Archbishop of Cape Town, the highest position in the Anglican Church in Southern Africa. Tutu is currently the Chair of the Elders, an independent group of global leaders who are working to promote the shared interests of humanity. In 2009, Tutu received the Presidential Medal of Freedom, the United States' highest civilian honor. He is known for his great love for children, as well as his powerful and profound understanding of the message of Jesus Christ.
Nancy Tillman has authored and illustrated numerous successful titles. Her books have sold over five million copies in North America. Her best-selling titles include On the Night You Were Born, Wherever You Are: My Love Will Follow and her most recent release, The Crown on Your Head, published in September 2011.
Visit http://childrenofgodbible.com to download sample stories from Archbishop Tutu's Children of God Storybook Bible or visit http://www.zonderkidz.com to see all children's titles along with games and activities for kids.
About Zondervan
Zondervan, a HarperCollins company, is a world leader in Christian communications and a leading Christian publishing brand. For more than 75 years, Zondervan has delivered transformational Christian experiences through general and academic resources by influential leaders and emerging voices, and been honored with more Christian Book Awards than any other publisher. Headquartered in Grand Rapids, Mich., with additional offices in Miami, Zondervan publishes its bestselling Bibles, books, audio, video, curriculum, software, and digital products through its Zondervan, Zonderkidz and Editorial Vida brands. Zondervan resources are sold worldwide through retail stores, online, and by Zondervan ChurchSource, and are translated into nearly 200 languages in more than 60 countries. Visit Zondervan on the Internet at http://www.zondervan.com.