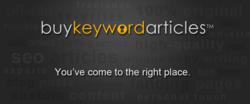 This is another step towards reaching our goal of providing a personal experience that goes above and beyond just placing an order.
Washington Terrace, UT (PRWEB) April 29, 2012
Buykeywordarticles.com, a leading content creation company, has just announced the addition of a LiveChat feature on their website. This feature was added to improve customer support and allow another line of communication for potential clients looking for an SEO article. By simply filling out the "Name" and "E-mail" fields in the LiveChat popup, small businesses and marketing agencies can get on-the-spot answers about the content writing services being offered.
"We pride ourselves in offering a "personal touch" with every client interaction", stated Matt Secrist, VP of Marketing. "Not only do we offer some of the most competitive prices on the web, we also offer a unique level of customer service. Partnering with LiveChat has given us the ability to reach out to international clients as well as those that prefer digital communication over using the telephone. This is another step towards reaching our goal of providing a personal experience that goes above and beyond just placing an order."
The LiveChat feature is located at the bottom right of the screen and can be accessed while on any page of the site. Potential clients have the ability to speak to a live customer service representative anytime between 8AM-5PM MST. Any request made outside of that time frame will be sent to an email account to be answered the next day. The chat service is only manned by Project Managers at Buykeywordarticles.com, there is no outsourcing of customer support. This chat feature enhances the ability to answer questions and provide a personal connection for clients that may have questions with SEO article packages.
"We are always working to improve our users' experience on our website", says Greg Secrist, CEO and founder of Buykeywordarticles.com. "If our clients can quickly and easily find what they want and get answers to their questions all in the same sitting, then we are doing our job right."
LiveChat is currently running on the site and can be utilized by those searching for content writing services at Buykeywordarticles.com. After 30 seconds, the popup window rolls out to ask if the viewer needs any assistance. Potential customers then have the option to quickly ask a question or close the popup and move on with their search. To get a real-time experience with this new LiveChat feature, visit the Buykeywordarticles.com website.
About Buykeywordarticles.com
Buykeywordarticles.com is one of the leading SEO article content providers on the web today. They have served clients ranging from individual internet marketers to Fortune 500 companies. Their content services include both on page and off page content and they provide internet marketing solutions through the use of in-house writing teams, dedicated project managers and quality content. To acquire more information on the services that they provide, please visit http://buykeywordarticles.com/.