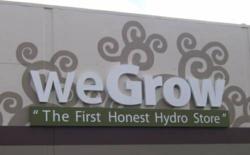 Trenton, NJ (PRWEB) April 27, 2012
weGrow, the one-stop-shop for medical marijuana cultivation and urban agriculture, will soon be coming to New Jersey. The company announced today that it has sold the franchise rights for multiple stores to open around the state.
The growing franchise sells everything a cultivator would need to successfully grow any plant indoors – from medical cannabis to tomatoes. Known as the, "first honest hydro store," weGrow is the first indoor gardening store to openly provide services and products for medical marijuana cultivators. The only thing that weGrow doesn't sell is the marijuana plant or seed itself.
"The timing of weGrow stores coming to New Jersey couldn't be better," said Dhar Mann, founder of weGrow. "Two years after New Jersey passed a medical marijuana program, the state has finally issued the first of six medical marijuana cultivation and dispensary licenses this month. Patients around the state are going to be relying on these alternative treatment centers to grow a high quality medicine, and weGrow will be here to assist these cultivators in the best growing practices for doing so."
Following the opening of the first east coast weGrow location in Washington D.C. last month, hotel developer Sanjeev Patel and real estate attorney Parita Patel, husband and wife, saw an opportunity to help cannabis patients and to provide everything an urban agriculturist would need to grow plants indoors in New Jersey. They purchased the franchise rights to develop up to eighteen weGrow stores, with immediate plans to open six locations.
"With a large elderly and sick community in a population of more than eight million, there are going to be a lot of medical marijuana patients in the Garden State once the program becomes fully implemented," said Sanjeev Patel, weGrow New Jersey master developer. "I have always believed medical cannabis can positively affect the lives of many sick people – individuals who are living with life-threatening sicknesses and in constant pain every single day. I saw weGrow as an opportunity to help these individuals."
New Jersey was the 14th state to enact a medical marijuana law; now medical marijuana legislation has been passed in 16 states plus the District of Columbia. In New Jersey, six qualified Alternative Treatment Center (ATCs) have been selected to open dispensaries and cultivation centers through the north, central and southern part of the state. Patients with qualifying ailments, such as epilepsy, glaucoma, AIDS, HIV, cancer, chronic pain and others are eligible to receive medical cannabis, if deemed appropriate by a state registered physician.
Sanjeev and Parita both believe that the weGrow Store will fill a large void of information and resources in the New Jersey market – for medical cannabis and also because the use of hydroponics in an urban landscape provides many benefits agriculturally for local communities.
"Urban agriculture using hydroponics is growing in popularity and is one segment of the market that has really piqued our interest," said Parita Patel, weGrow New Jersey master developer. "In any urban city with lots of concrete and limited space, hydroponics provides an environmentally-friendly way to supply a variety of quality produce and flowering plants to its community. We plan to have all of the supplies that these growers will need along with the education they need to yield the best results from their crops."
The New Jersey weGrow store will be the second location for the brand on the East Coast. weGrow currently has stores in Sacramento and San Jose, Calif.; Phoenix, Ariz.; Washington D.C. as well as a retail distribution center and training facility in Oakland, Calif. The growing franchise has plans to open additional stores around the country.
For more information, please visit http://www.weGrowStore.com.
About weGrow
weGrow is the "first honest hydroponics store," geared towards selling the products and services necessary to grow plants indoors. From the largest showroom of hydroponic equipment, to grow training services; weGrow is a one-stop-shop for cultivators. weGrow has several locations nationwide and has plans for continued growth. For more information, please visit http://www.wegrowstore.com.