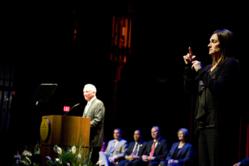 It is a logical progression to legitimize Interpret San Diego as a LLC and undergo rigorous HIPAA training," Jennifer Clifford, Founder and CEO
San Diego, CA (PRWEB) April 29, 2012
Interpret San Diego, a small business 100% focused on serving the needs of the Deaf and hard-of-hearing, is now a business of San Diego ASL Interpreting, LLC
Founded by Jennifer Clifford in 2009, Interpret San Diego is a locally-owned small business focused on serving the Deaf and hard-of-hearing in the San Diego, California area. Jennifer Clifford is certified Level IV (Advanced) by the National Association of the Deaf (NAD) and recognized by the Registry of Interpreters for the Deaf (RID). She has over 15 years of experience transliterating classroom lectures, conferences, training, special events, and professional and medical (in accordance with HIPAA) appointments and interpreting the client responses from American Sign Language (ASL) to English in one-on-one, classroom, and big venue environments. Jennifer has had the privilege to interpret for President George W. Bush, Admiral Thad Allen, USCG (Ret.), and San Diego Mayor Jerry Sanders.
Though not a traditional agency, Interpret San Diego can provide highly skilled professionals who, with ASL and spoken English, facilitate communication between hearing individuals and the Deaf or hard-of-hearing. Sign language interpreters serve as a crucial communication tool utilized by all people involved in a specified communication setting. Interpreters listen to another person's words, inflections and intent and simultaneously render them into the visual language of signs using the mode of communication preferred by the Deaf consumer. Interpreters are able to comprehend the signs, inflections and intent of the Deaf consumer and simultaneously speak them in articulate, appropriate English. They are able to understand the cultures in which they work and apply that knowledge to promote effective cross-cultural communications.
A native of Los Angeles, CA, Jennifer spent eight years at Gallaudet University in Washington DC, working, learning ASL, and immersing herself in Deaf culture. Since relocating to San Diego in 2005, Jennifer has committed herself and her business to the city. Through freelance work or the development of new clients, she has had the privilege to work at or interpret for Mayor Jerry Sanders; Marine Corps Air Station Miramar; the San Diego Padres; the Salk Institute; COMIC-CON International; Qualcomm; the University of California; San Diego; the Thomas Jefferson School of Law; San Diego State University; Grossmont College; the San Diego Community College District; Grand Pacific Resorts (Carlsbad); and Kaiser Permanente. Understanding the importance of patient privacy and public safety, Jennifer recently went through formal Healthcare Interpreter and HIPAA Training as well as became a Certified Community Emergency Responder by Los Angeles Fire Department.
If you would like more information visit http://www.InterpretSanDiego.com or contact Jennifer Clifford at (619) 335-6648 or jeninterp(at)yahoo(dot)com.