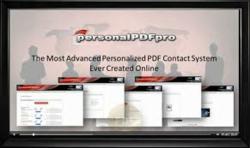 If you want to get the best results, you want to own the best PDF software tools available. PersonalPDFpro has an excellent reputation and is a winner
(PRWEB) April 28, 2012
Personal PDF Pro, a new product on personal marketing systems, has been launched. Personal PDF pro helps internet marketers create personalized PDF files within minutes. This online tool can personalize all correspondence and marketing offers.
Personal PDF Pro allows its users to personalize every document in PDF format create PDF files, personal reports, team reports, quick notes and create PDF posts. The users of this tool will be able to create unlimited number of documents in PDF format or convert Microsoft word to PDF and every document created in the system is stored in their system. If users want to make changes to any particular document, they can log in and edit the document as they wish, save it and it will be secured.
Regardless of what type of business the users are trying to promote online, Personal PDF Pro (PPP) will be ideal for all marketers in promoting their products online. The software, launched on April 20th, 2012 is so unique in the market that currently there is no other tool that can compare to its performance. This is a tool that fits flawlessly into any marketing campaign as it is equipped with all the features marketers could think of.
Personal PDF pro includes easy support and tutorials that will basically guide them through in every step of creating any type of document in the system. Users can create the marketing material beforehand preparing a list of prospects in their marketing campaign. Since it can customize and convert documents to PDF for the receiver, the end user feels as if the marketer is dealing with him or her directly and knows exactly what they want. At the price of $197, users will:
Create PDF Personal reports: The marketer can generate multiple reports quickly in PDF online and help them in their marketing exercise for any product they are intending to promote online. Each product can have its own document and every single report can be designed and tailored for each of their receivers.
Create PDF Team Reports: It is now easy to develop a master report in PDF for all team members to access. Each recipient will have their own personalized report. These created PDF files can be edited and formatted 24 hours a day.
PDF Quick Notes: Deliver a complete message to all prospective receivers free from spam traps. These are PDF documents that can be integrated into auto responders in emails. AWeber and Get Response links are provided for each PDF file. Unlimited personal PDF documents created as quick notes which are customized down to each prospect for any product the marketers are promoting.
PDF Greeting Cards: During any holidays, the online marketers can again use personal PDF pro to promote a product. Make a personalized greeting card in Personal PDF pro, decorate it the way they want, add a company logo, picture and holidays greetings message for each of the prospects in their entire list.
About
Personal PDF pro delivers a software system with great value. Including user friendly PDF formatting, document creating, editing and sharing.