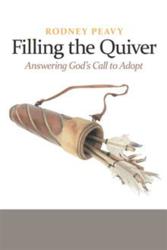 Thomson, Ga. (PRWEB) April 28, 2012
Author Rodney Peavy and his wife, Beverly, have opened their hearts and their homes, adopting four children into their family. Over the years, they have been asked a number of questions regarding their choice to adopt and all that is involved in doing so. To help answer those looking for advice and insights, told from a spiritual perspective, into the adoption process comes Peavy's new book, "Filling the Quiver: Answering God's Call to Adopt" (published by CrossBooks).
"Filling the Quiver" is a book about adoption, written from the perspective of an adoptive father. It answers the question that many prospective adoptive parents have, but are unsure of where to find the answer. It is a guide to both the practical and the spiritual implications of the adoption process.
"It answers the tough, yet real questions that people want to have answered before they make the life-changing decision to adopt." Peavy explains. "They are questions you might not find answered in other venues."
"Filling the Quiver" shares key insights on adoption through a very real and easy-to-read family testimony, approaching the subject in a real, spiritual, sometimes funny and sometimes touching manner.
About the Author
Rodney Peavy is the pastor of Washington Heights Baptist Church in Thomson, Georgia. He has a master's degree in theological studies from Liberty Baptist Theological Seminary in Lynchburg, Virginia, a bachelor's degree in Christian education from the Baptist College of Florida and an honorary doctor of divinity degree from Grace Bible Institute in Buford, Georgia. He and his wife Beverly have four adopted children. This book is their story. For more information, go to their web ministry at http://www.burningbones.com.
CrossBooks, a division of LifeWay Christian Resources of the Southern Baptist Convention, is a Christian publishing imprint committed to bringing more Christian voices into the publishing industry. Established authors, first-time authors, and authors anywhere in between can meet their goals and fulfill their vision for their books by publishing with CrossBooks. CrossBooks' innovative style of publishing blends the best of traditional and self-publishing. While our authors contribute monetarily to cover the cost of publishing, we maintain a strict moral and quality standard that every manuscript must meet for us to publish. For more information on publishing your Christian book with CrossBooks, log on to crossbooks.com or call 1-866-879-0502.