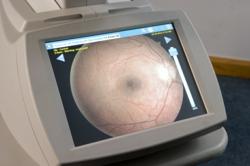 We always enjoy exhibiting at this annual event, it gives us an opportunity to speak to members of the RCO, many of which are existing valued Haag-Streit UK customers
Harlow, Essex (PRWEB UK) 28 April 2012
Visit Haag-Streit UK on stand B where we will be exhibiting many of our key products for 2012 including; the newly NSC-approved DRS camera which can capture images in less than 30 seconds and requires minimal operator training. Demonstrations of this popular non-mydriatic camera will be available at the event.
We will also be showcasing Haag-Streit class-leading products, including; the Lenstar biometer, which provides 9 measurements in under 30 seconds. The Lenstar offers more precise K readings than other optical biometers with integrated keratometry and measures closer to the central axis using 32 reference points in a dual-zone of 1.65mm and 2.3mm. The Octopus perimeter, which provides 4 methods of perimetry in one instrument and boasts a full-size Goldmann spherical cupola covering a 90 degree field area, will also demonstrated.
Two Ellex products will also be available to view on the stand, the Tango is a combined YAG, SLT laser and slit lamp and provides an all-in-one glaucoma and cataract station. This is joined by the EyeCubed diagnostic ultrasound system. We will be demonstrating the equipment in the new 40 MHz UBM mode, this allows the User to view anterior structures such as the cornea, iris, ciliary body, crystalline and intraocular lens more clearly than ever before.
Other popular Haag-Streit gold standard equipment will also be showcased, including; BQ900 LED slit lamp with IM900, Tonosafe disposable prisms and the Perkins Mk3 LED Tonometer.
"We are looking forward to another successful RCO," explains Dean Johnson, Managing Director at Haag-Streit UK, "We always enjoy exhibiting at this annual event, it gives us an opportunity to speak to members of the RCO, many of which are existing valued Haag-Streit UK customers".
For further information regarding Haag-Streit products, contact Haag-Streit UK on (01279) 414969 or email info(at)haag-streit-uk(dot)com