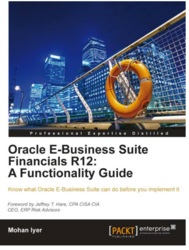 Readers can now know what Oracle E-Business Suite can do before they implement it
Birmingham, United Kingdom (PRWEB) April 28, 2012
Packt Publishing is pleased to announce the publication of the Oracle E-Business Suite Financials R12: A Functionality Guide, a new book and ebook consisting of Oracle EBS product highlights and techniques for day to day practices.
About the Author:
Mohan Iyer, the coordinator of the GL SIG and an ex board member of the NorCal OAUG and Multi-National SIG has more than 20 years experience in system implementations. With the last 15 years implementing Oracle Financials, his skill-set include a full range of financial applications in Oracle Applications and related modules.
This comprehensive handbook provides guidance for mastering the concept of procurement and its related processes including the definition of suppliers and how to manage the activity of procuring goods for the enterprise. Readers would be able to understand why General Ledger is the core of the Oracle E-Business Suite and how Sub Ledger Accounting complements the General Ledger.
Some of the principal chapters emphasized in this book are:
Chapter 1: Overview of Oracle E-Business Suite
Chapter 2: General Ledger
Chapter 3: Subledger Accounting (SLA)
Chapter 4: Inventory
Chapter 5: Purchasing
Chapter 6: Payables
Chapter 7: Assets
Chapter 8: Cash Management
Chapter 9: Treasury
Chapter 10: Order Management
Chapter 11: Receivables
Chapter 12: Credit Management
Chapter 13: E-Business Tax (EBTax)
Chapter 14: Oracle Workflow
Chapter 15: Approval Management Engine (AME)
Oracle EBS Financials provide organizations with solutions to a wide range of long and short term accounting system issues. Oracle E-Business Suite is most comprehensive among the integrated, global business applications that provide the most complete, integrated business intelligence portfolio.
Packt Publishing has also released and is due to publish other titles:
Oracle Essbase 11 Development Cookbook (Published)
Oracle JDeveloper 11gR2 Cookbook (Published)
Oracle Database 11gR2 Performance Tuning Cookbook (Published)
Oracle Hyperion Interactive Reporting 11 Expert Guide (Published)
All Oracle Application books are published by Packt Enterprise. Packt Enterprise is a publishing division of Packt Publishing created to serve the information needs of IT Professionals in the Enterprise space. Packt Enterprise also publishes on Microsoft, IBM, Oracle, Citrix, Java, Amazon, Google and SAP technologies.