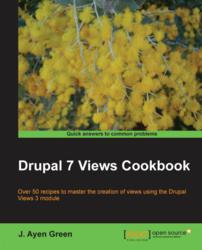 Brand new recipe examples using the all new Views 3 UI
Birmingham, UK (PRWEB) April 27, 2012
Packt recently announced the release of its new book Drupal 7 Views Cookbook. Written by J. Ayen Green, this book contains plenty of easy-to-follow practical recipes with screenshots that will help you in mastering the Drupal Views module.
Drupal Views module provides a flexible method for Drupal site designers to control how lists and tables of content, users, taxonomy terms and other data are presented. This tool is essentially a smart query builder that, given enough information, can build the proper query, execute it, and display the results.
This book starts with a brief introduction to Views, and helps a user to learn how to create blocks containing interesting lists or randomly selected images. A user can learn to link multiple content types to provide more information, display complementary content in additional displays, design a desktop-like page driven by user input, deliver a view from inside a custom module, manipulate the templates to add pizzazz to their views and many more.
This is a cookbook containing plenty of easy-to-follow practical recipes with screenshots and it's for developers or technically proficient users who are fairly comfortable with the concepts behind websites and the Drupal environment. The book is now available in print and popular e-book formats, for more information please visit the book page